Features
Manage your audio media using a multi-function platform, and enable it to reach the entire world, or just a limited circle.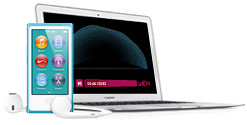 Compatibility with all media
Your audio files can be broadcast in formats compatible with all platforms: computers running Windows or Mac OS, Android , iOS, Windows Mobile, etc. smartphones and tablets.

Sharing
Increase the visibility of your audio content through the module for sharing on social networks like Facebook and microblogging services like Twitter.
Playlists
Assemble audio media stored in your AOD space into Flash-compatible playlists.

Live Playlist
Generate a playlist to execute a false live play, then belonging to our streaming product. Although the stream will be seen synchronously by all spectators, this stream is not produced live.

Classic playlist
You can use a playlist where the files will be played one by one without thinking about synchronising the different listeners. You can choose between random play and repeating the list.
Restriction by geolocation
The broadcasting of audio files may be limited to certain IP addresses or countries. It is also possible to customize the message explaining a blockage.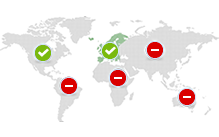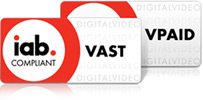 A simple solution for making money
The broadcasting of advertisements in your video or audio player is arranged simply by providing a VAST label (URL of our ad).
Our player is compatible with virtually any ad server or ad network. For live streaming, you can choose multiple linear ad types: pre-, mid-, and post-roll, displayed fullscreen. We are compatible with the VAST 2.0 and VPAID 1.0 standards established by the IAB.

Listeners' statistics and monitoring
Our management console lets you to get statistics on your audio content, either generally (daily average, bandwidth, etc.) or more precise statistics on a particular file (actual playback duration %, origin of the audience, etc.).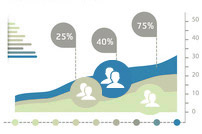 Better knowing your audience
Profile reports detailing the bandwidth consumption per listener, the number of audio files played, or unique listeners.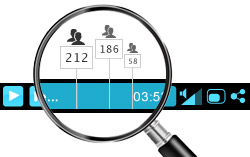 Your audio files
Statistics on the playing time of audio content can identify the files most popular with listeners.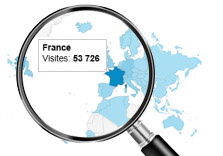 Geographical distribution
Our analysis tool is used to measure your audience: geolocation of listeners, devices or browsers used, comparison of visits between two periods, etc.
Customizable Player
You can fully customize the audio player so that it fits perfectly with the design of your site. Change the status messages visible during pre-loading, during a break, superimpose a logo (watermark), etc.

Cutting
This tool lets you adjust the start and end times of your audio files without the need to process them in a video editing program. Audio source files are kept on our servers for seven days before being deleted.