All inclusive WordPress hosting
Our hostings allow you to create an attractive WordPress site without any programming knowledge. Your site is easy to manage, fast, evolutive and compatible for all devices.
Astate-of-the-art WordPress hosting
Benefit from our expertise and from an ultra-fast WordPress SSD hosting.
Easy WordPress installation
250 GB of disk space (expandable)
Fast WordPress SSD Hosting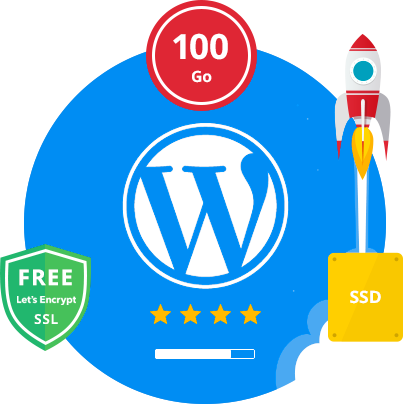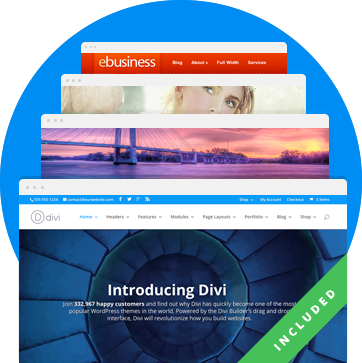 80 WordPress themes offered
With our hostings, you can enjoy the best WordPress themes and extensions from development agencies which are recognised in the WordPress community for free. In this way you save over 1000 CHF a year!

WordPress is the most used CMS in the world
Create your website easily with WordPress, the most used content management system in the world. You don't need to master a programming language.
E-commerce, e-learning, blog, professional sites... everything is possible!
Adapted for all devices (computers, tablets, smartphones)
More than 40,000 extensions free to personalise your site
Optimised for referencing in search engines
Easy integration with social networks (Facebook, Twitter, Instagram, etc.)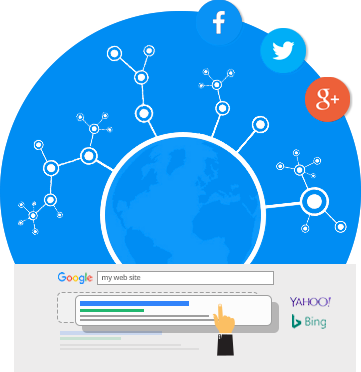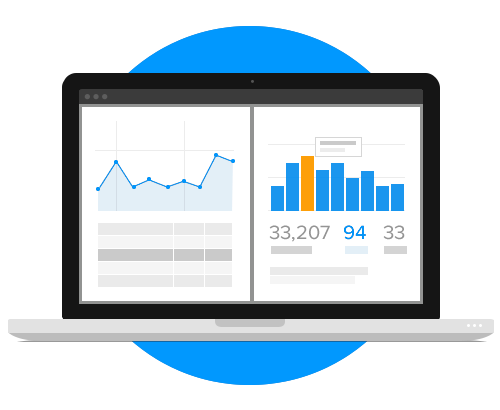 Measure and develop your site traffic
See how many visitors come to your site and which pages are visited most, and so optimise your content in order to develop your site traffic.
Preinstalled statistics tool
Progression of the number of visitors
The most read pages and content
Source and quality of the traffic
Create a site optimised for online sales
Use professional tools to create your online store
Secure your customers' data in a single click with an EV SSL certificate
Create targeted contact lists with our professional newsletter tool and use your free monthly credits to send newsletters to your clients
Share your podcasts and videos professionally through your 10 Go VOD space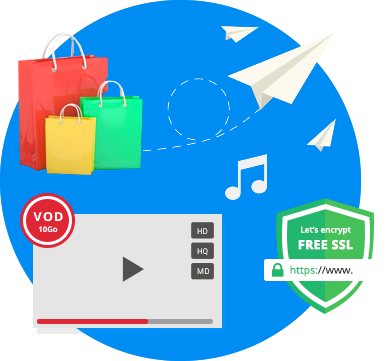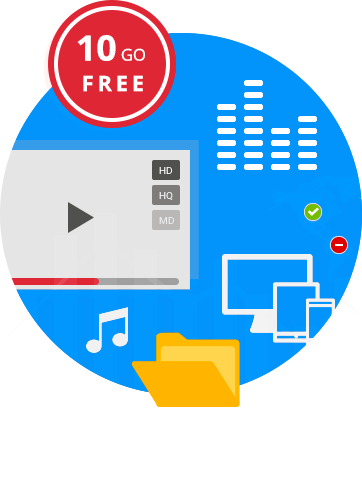 Professional VOD/AOD platform
Store, transmit and protect your audio and video content by using the same tools as professional radio and TV stations.
10 Gb included with your first hosting
Token based media protection
Generating revenue from the content
Restriction by geolocation
Audience monitoring and statistics
Discover our broadcasting platform
Our WordPress SSD hostings
Web
Only the Web hosting
100% SSD Web Hosting
250 GB and +
Multi-site management
Advanced management of EV and DV SSL certificates
Anti-DDoS protection
10 GB of VOD
---
Learn more
Classic
The complete Web+Mail offer
100% SSD Web Hosting
250 GB and +
Multi-site management
Advanced management of EV and DV SSL certificates
Anti-DDoS protection
10 GB of VOD
---
Professional messaging
5 email addresses with unlimited storage
---
WorkSpace
Online messaging
Instant messaging
Syncing contacts and calendars
---
Learn more
Cloud Server
Managed
100% SSD Web Hosting
250 GB and +
Multi-site management
Advanced management of EV and DV SSL certificates
Anti-DDoS protection
10 GB of VOD
---
Power
4 CPU and +
12 Gb (RAM) and +
100% SSD
100% dedicated resources
---
Management
Infomaniak manages your server
---
Learn more