Knowledge base
1000 FAQs, 500 tutorials and explanatory videos. Here, there are only solutions!
Streaming a source connected to the Line In port via Winamp
Winamp is an application commonly used to play back audio files (MP3 or WAV files) or for connecting to the Internet and playing Internet radio stations. If your audio source is fed to your encoder via the line input you may instruct Winamp to stream this sound source even if it is not an audio file as such.
Actions to be carried out
After installing Winamp (along with the
Edcast
plugin which will allow you to stream the source to our servers) go to Options -> Preferences -> Plugins -> Input and select the required input method.
Locate the line input corresponding to your sound card and select it.
In Options -> Preferences -> Plugins -> Effects/DSP -> Edcast, click on the microphone with a cross through it in order to enable the sound then select Line Input from the drop-down menu (Fig. 1).
Close the preferences and go to File -> Open URL and simply specify linein:// in the address field.
Playback should now begin. And if it does, you can now upload this stream to use once you have configured Edcast using the parameters provided in your control panel.
Illustrated steps
Fig. 1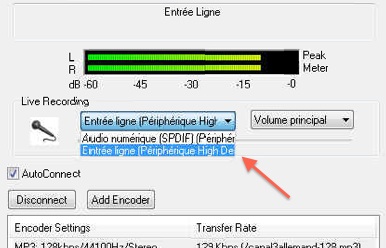 Link to this FAQ: