Protect yourself against viruses, ransomware and cyberthreats with Swiss Backup!
Back up your data easily with Acronis
Swiss Backup incorporates Acronis Cyber Protect Cloud, the most powerful solution on the market for centralising management of your backups and your cybersecurity.
Free trial
Sleep easy, even if the unthinkable happens
Backups of x3 in x2 data centers
Swiss Backup constantly copies your data onto at least 3 supports across 2 data centers.
Easy recovery
A problem? Recover your backups via another device or recover only the files of your choice.
Backup encryption
Swiss Backup already encrypts the data on the servers and Acronis enables you to encrypt your backups using your own key.
Automatic and remote installation
Thanks to detection based on the network and on Active Directory, Acronis can be deployed in companies very quickly.
Secure remote access control
Acronis incorporates a remote office function for telework or to provide technical assistance.
Virus protection and anti-malware included
Swiss Backup incorporates Acronis Cyber Protect Cloud, a backup and cyberprotection solution to protect your data, apps and systems against all threats.
Evaluations of vulnerabilities

---

Threat surveillance and smart alerts

---

Protection against viruses, malware, ransomware and much more

---
A single platform to manage everything in the blink of an eye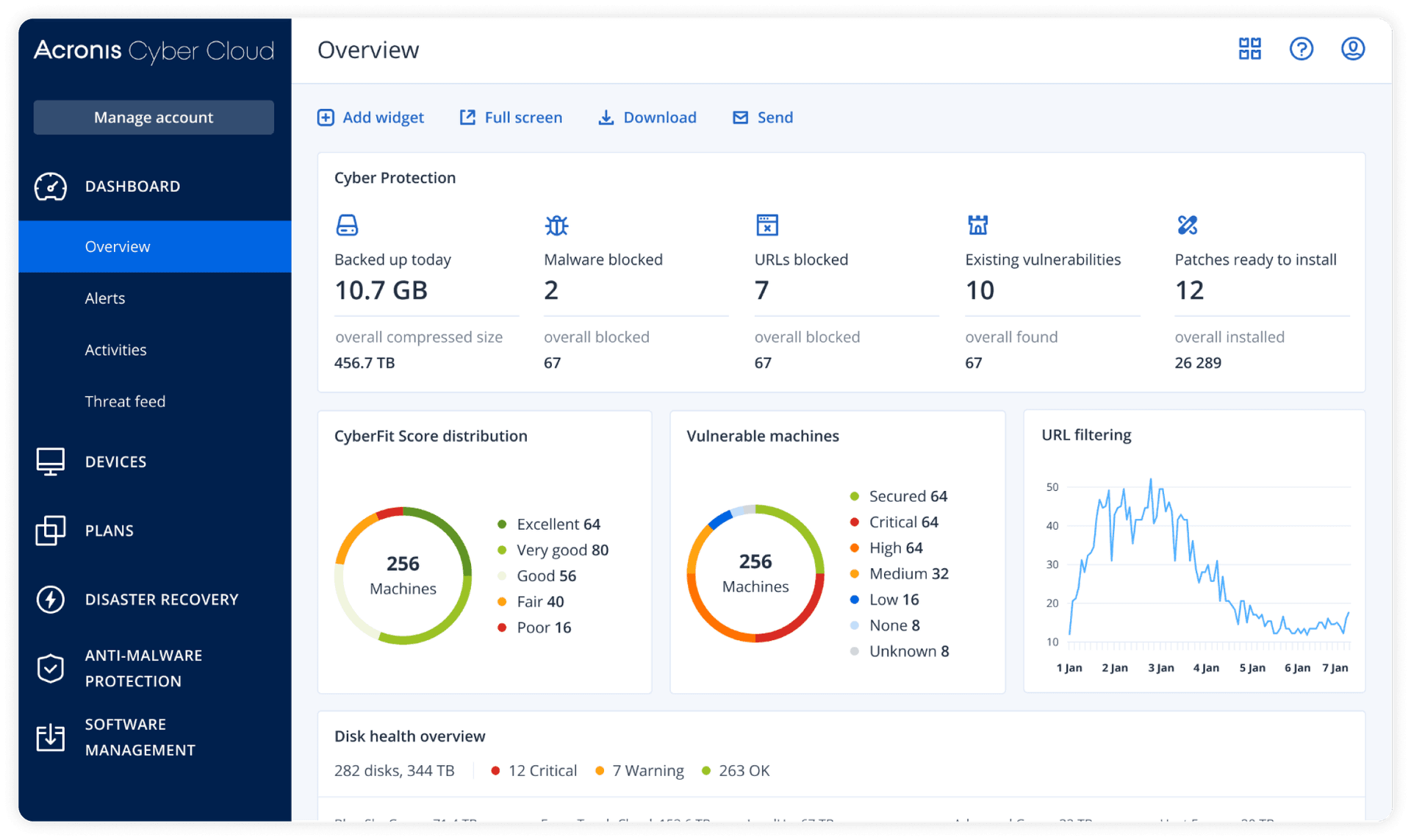 Customized reports
Monitor the cybersecurity of your devices in real time. You have the situation in hand.
A unique interface to control everything
Check the security status of your devices and backup schedule at any time.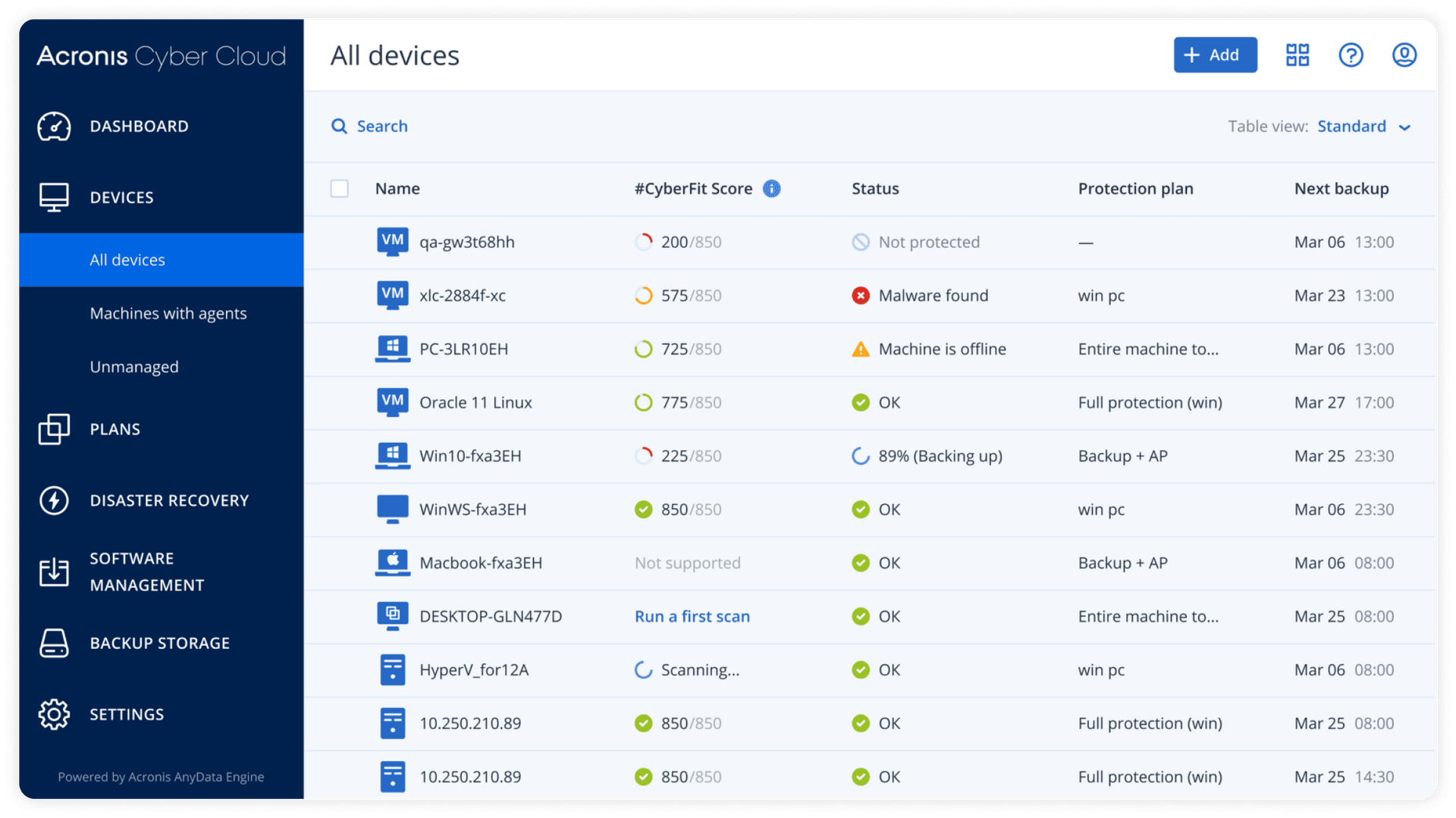 Back up your macOS, Windows and Linux workstations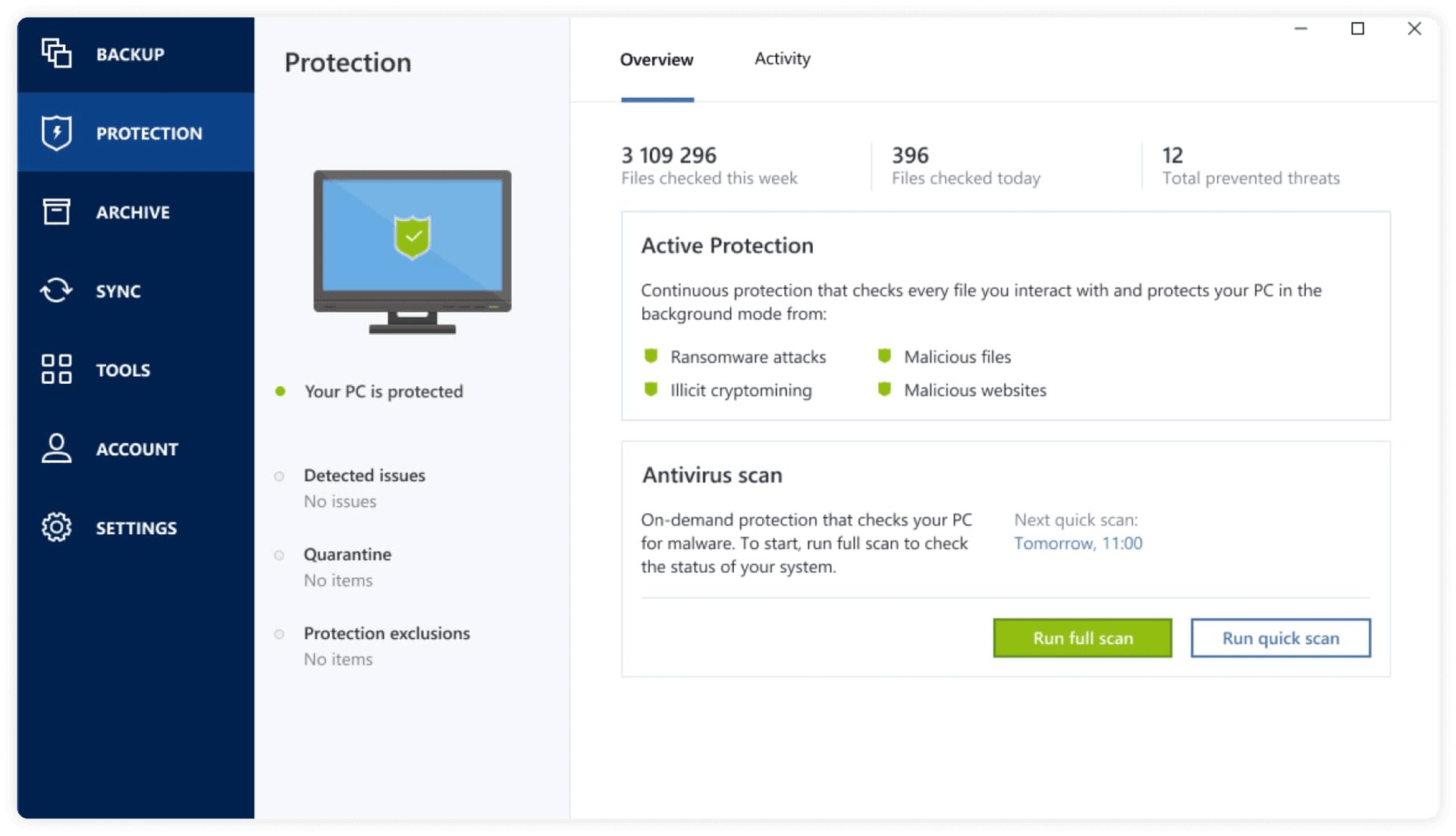 Back up certain folders
Be it photos or any type of file, select whatever you really want to back up. In the event of an unexpected incident, your can recover them without any problem.
Or the complete image of your workstation
If necessary, this will enable you to retrieve your computer with your configuration and your software unchanged, as if nothing had happened.
Back up your virtual machines
Protect a wide range of hypervisors
Acronis supports VMware, Hyper-V, Virtuozzo, Red Hat, KVM, Oracle VM, Linux KVM and Citrix Xen with a licence formula per host which covers an unlimited number of virtual machines.
Instant recovery
Reduce the restart time to only a few seconds by recovering a system or a virtual machine from the backup directly, without moving any data.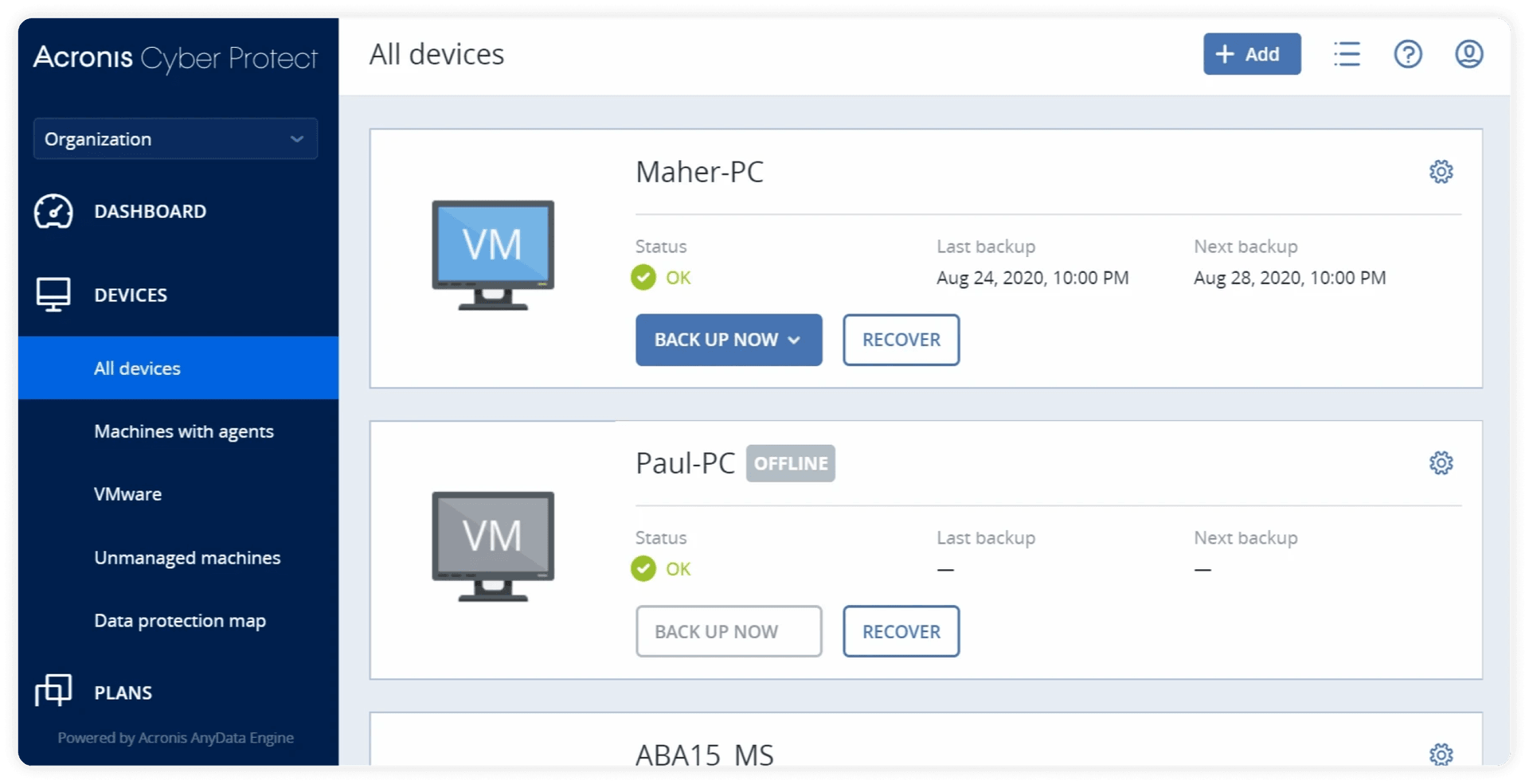 Back up your servers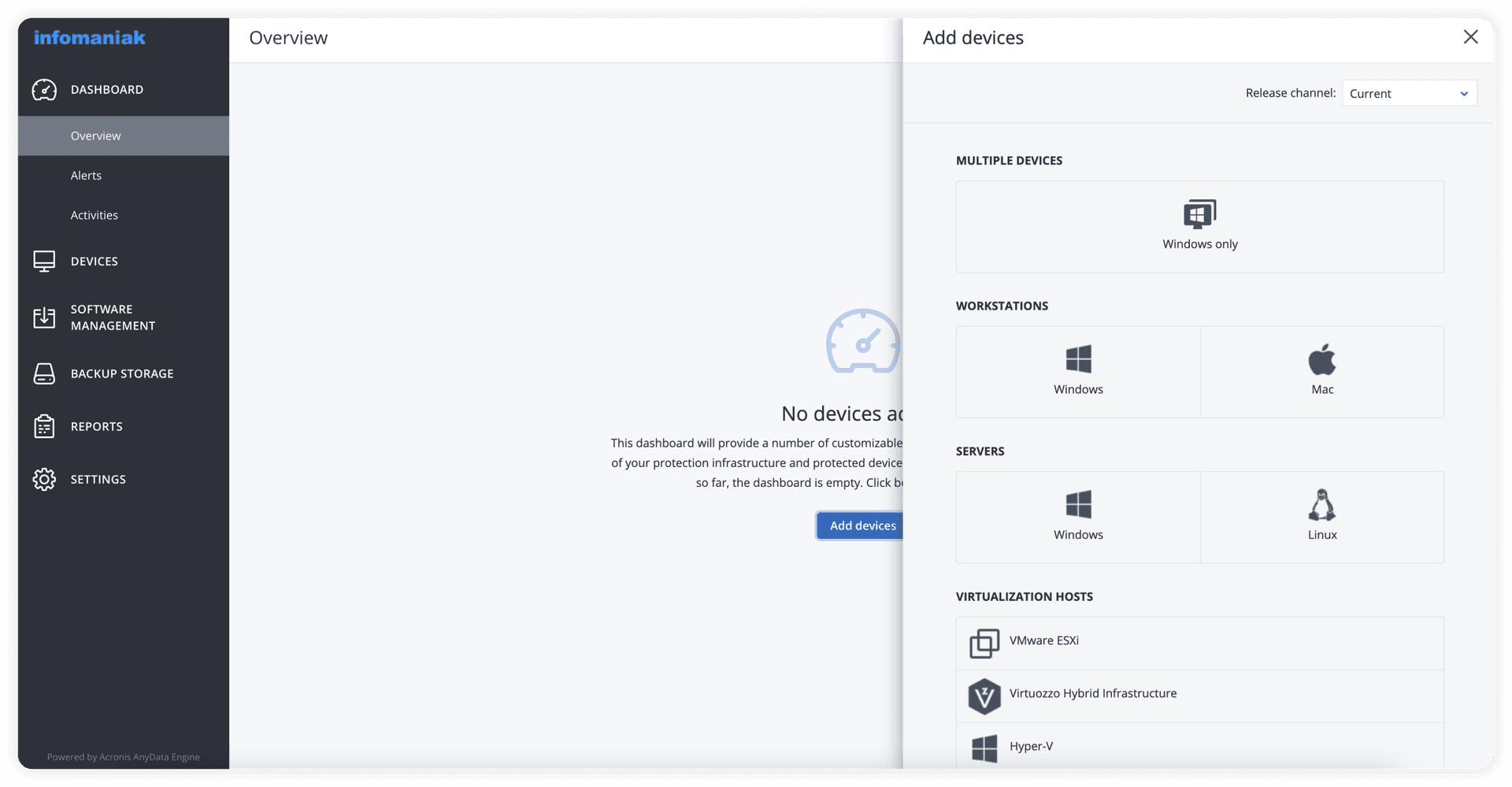 Map your backups
Protect your company with full and reliable backup images of all your servers, your files or your data.
Compatible with most systems
Microsoft Windows Server, SQL Server, Exchange Server, SharePoint Server, Linux, macOS... (almost) everything is possible!
Intuitive assimilation
Recover complete images or specific files, folders, elements and applications.
Use Acronis to manage the security of all your IT equipment
Acronis Cyber Protect Cloud can also protect Microsoft 365, Exchange, SharePoint, SQL Server, Oracle Database, Active Directory and Google Workspace.

You can manage your users and the licences used independently.
Protecting your data. Our profession.
Backups of x3 in Switzerland in x2 data centers
Swiss Backup constantly copies your data onto at least 3 supports across 2 data centers. You can sleep easy.
Your data concerns you and you alone
Infomaniak is subject to the GDPR and the LPD. The company is based in Switzerland, in Geneva and Winterthur. It is not listed on the stock market and is owned by its founders and employees.
Up to 1000 TB of backup
Swiss Backup offers you complete flexibility. One thing is certain: you will never feel restricted.
Your data security can't wait!
Free trial for 90 days • Cancellation at any time
Free trial
Do you have any questions or doubts?
We've compiled the questions we're often asked – see below.
Is Acronis included with Swiss Backup?

Yes, absolutely. If you take a machine with the Acronis backup function, the licence of this software, exclusive for Swiss Backup, will be included in the price.

---

Is it easy to recover my data with Swiss Backup?

By using the Acronis reference software provided along with Swiss Backup, recovering data or an entire system is child's play. Even when recovering an entire workstation, there is no need to follow a whole series of complicated procedures to create a flash drive or boot disc. Almost everything is done automatically.

Restore a MacRestore a Windows machine

---

Can I set the frequency and duration of backups?

Acronis makes it possible to define the frequency of your backups and the amount of time that the data will be stored. These elements are defined in the

backup plan

on the Acronis dashboard (6 months as standard)

---

Is it possible to back up only a part of my machine with Acronis?

Acronis lets you back up your entire machine with Swiss Backup, or specific folders and a network location, and of course restore a

selection of folders

---

Can I back up any type of machine with Acronis?

Using Acronis with Swiss Backup is compatible with computers (Windows/Mac OS), mobile phones (Android/iOS), virtual machines, and Linux and Windows servers

---

Is it possible to consult all the machines on my Swiss Backup via an Acronis account?

Yes, log in to your Acronis dashboard to view backups of other machines and manage backup plans.

---

Can I encrypt the content of my backup on Swiss Backup?

Swiss Backup has data encryption, but you can enable the encryption option on Acronis to give your data additional protection.

---

Would I be notified when my machines are being backed up?

Swiss Backup contains an option which allows you to receive all warnings and notifications concerning your backups. Simply

activate this option

so that you are always aware of the status of your backups.

---

What is the difference between Swiss Backup and kDrive?

kDrive is an online platform which enables you to retain a copy of your files and share them with employees, but which does not backup the information on your system. Swiss Backup is more like an online safe in which your entire machine, your files, folders and even your OS configuration is stored, enabling you to recover an identical copy of your machine.

---