How does it work?
Live video streaming, or broadcasting a video stream live, allows you to broadcast an audio or video source in real-time to viewers connected to the Internet. This live broadcast can be followed from a web page, mobile phone, or other compatible device.
1
Send us
your video stream...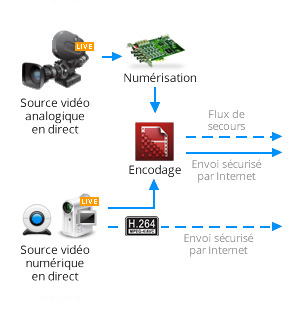 Generate a live video stream you send to our streaming server using the encoding and broadcast software of your choice (Adobe Flash Media Live Encoder - free, XStream Live, Wirecast, etc.) and through your ADSL/fiber/cable line.
2
arrange the broadcast
of your event...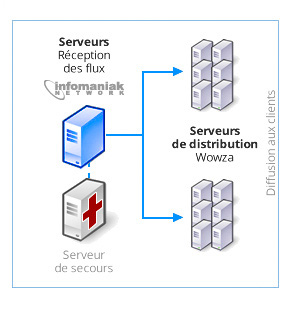 Embed our customizable video player (or the player of your choice) on your website, or retrieve embed links for Flash, iPhone, iPad or Android.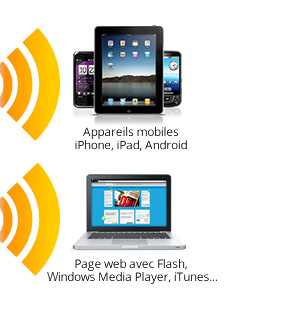 Infomaniak Network distributes your video directly to each viewer connected to your website, regardless of its platform: web page, Windows Media Player, mobile telephone - iPhone or other, etc.
Live Video Streaming for all events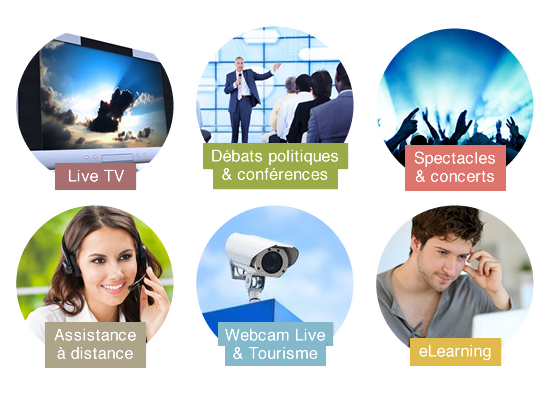 Live Streaming Video is paving the way to many uses for business and individuals alike: Web TV, broadcasting shows and concerts, conferences, webcasts, training and courses, broadcasts of events (sports, associations, companies), webcams, blogs and journalism, assistance, monitoring, health in real time that can be viewed on the internet, etc. The video stream can be open to all or limited to your customers only.
Understanding streaming
Video streaming is a smart broadcasting technique that differentiates itself from classic downloading in that it's not necessary to wait for an operation to finish before you can start playing the images.

This real-time broadcast enables non-negligible bandwidth savings, implying a cost saving for the traffic generated.

Progressive download is also offered with our pooled hosting service or for professional use via our VOD product. In this case, you do not need the Live Streaming Video service to stream a movie or content that is not performed live.
How do I broadcast?
The use of a device or software that converts the images you capture into a stream recognized our server is imperative. Our platform is compatible with most acquisition cards on the market, as well as the most widespread software.

Adobe Flash Media Live Encoder is available on different platforms and lets you deliver your images free and fast, thanks to the key encoding settings: codec, image size, streaming rate, etc. The source can be top quality video content for your live events or videos from a webcam or a FireWire or USB peripheral.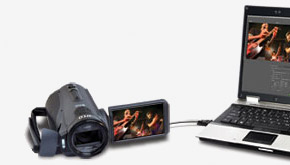 Stream format and qualities
Your video stream(s) can be sent in different formats, including H.264 and VP6. The video may contain audio tracks in the most common formats: HE-AAC (AAC +), AAC, MP3. These audio and video codecs are then encapsulated and proposed for broadcast in your admin console in different formats such as .FLV, .M3u8, RTMP, and also playing on your web page using our customizable Flash player.

| | | | | | | | |
| --- | --- | --- | --- | --- | --- | --- | --- |
| Video codec: | | Audio codec: | | Throughput: | | Resolution: | |
Qualities
The quality of video streams will depend on two settings:
Your Internet connection
The video stream sent over your Internet connection depends on the availability of your bandwidth for uploads. For example, if you have 650 kbps for upload, you will be limited to a video stream of 600kbps maximum.

Additionally, if you send an email with a 10MB attachment using the same Internet connection, this could saturate your upload line and momentarily cut your stream.
Connection quality on the viewer's end
In general, it is less problematic because the use of bandwidth is in download this time. ADSL connections are becoming faster (several Mbps) although some urban areas or regions have a rather slow flow rate.




Multibitrate
This technology allows our servers to broadcast up to 5 streams of different quality. Viewers will receive the stream that best matches their connection speed and switches in real time from one stream to another.

Warning, during the broadcast, it is essential to have a good Internet feed in order to provide a continuous stream that will be processed optimally.