15 GB kDrive / 20 GB Email free
The best free alternative to the web giants
Store your photos, documents and e-mails in Switzerland with an independent company that respects privacy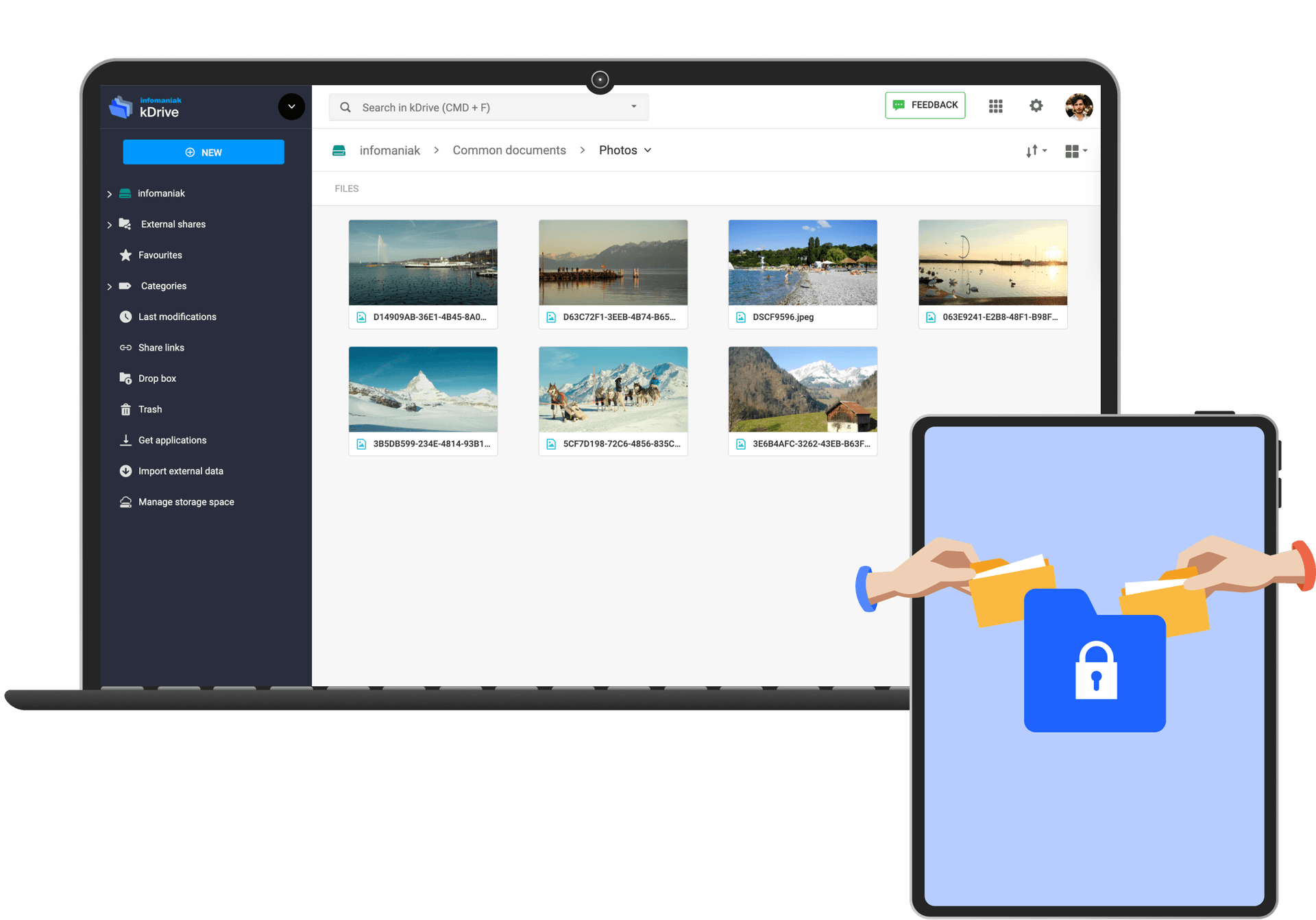 Store your files in Switzerland and
work together securely
With kDrive, your data's stored exclusively in Switzerland and is guaranteed not be analysed for advertising purposes or sold to third parties.
15 GB of storage to sync your files between all your devices.

---

Creation and online collaboration for Word, Excel and PowerPoint documents.

---

Automatic import from Google Drive, Dropbox, One Drive, NextCloud and WebDav.

---

Data centers located exclusively in Switzerland and managed by Infomaniak.

---
Emails,

your free and ad-free email address in Switzerland
It's your choice: myaddress@
Create your @etik.com, @ik.me or @ikmail.com email address for free. It costs nothing, it's ad-free, and you are not the product.
20 GB of storage space for your emails.

---

Complete protection against spam and phishing.

---

Email, contact and appointment synchronisation across all your devices.

---

Automatic import from Gmail, Outlook, Yahoo or any other IMAP provider.

---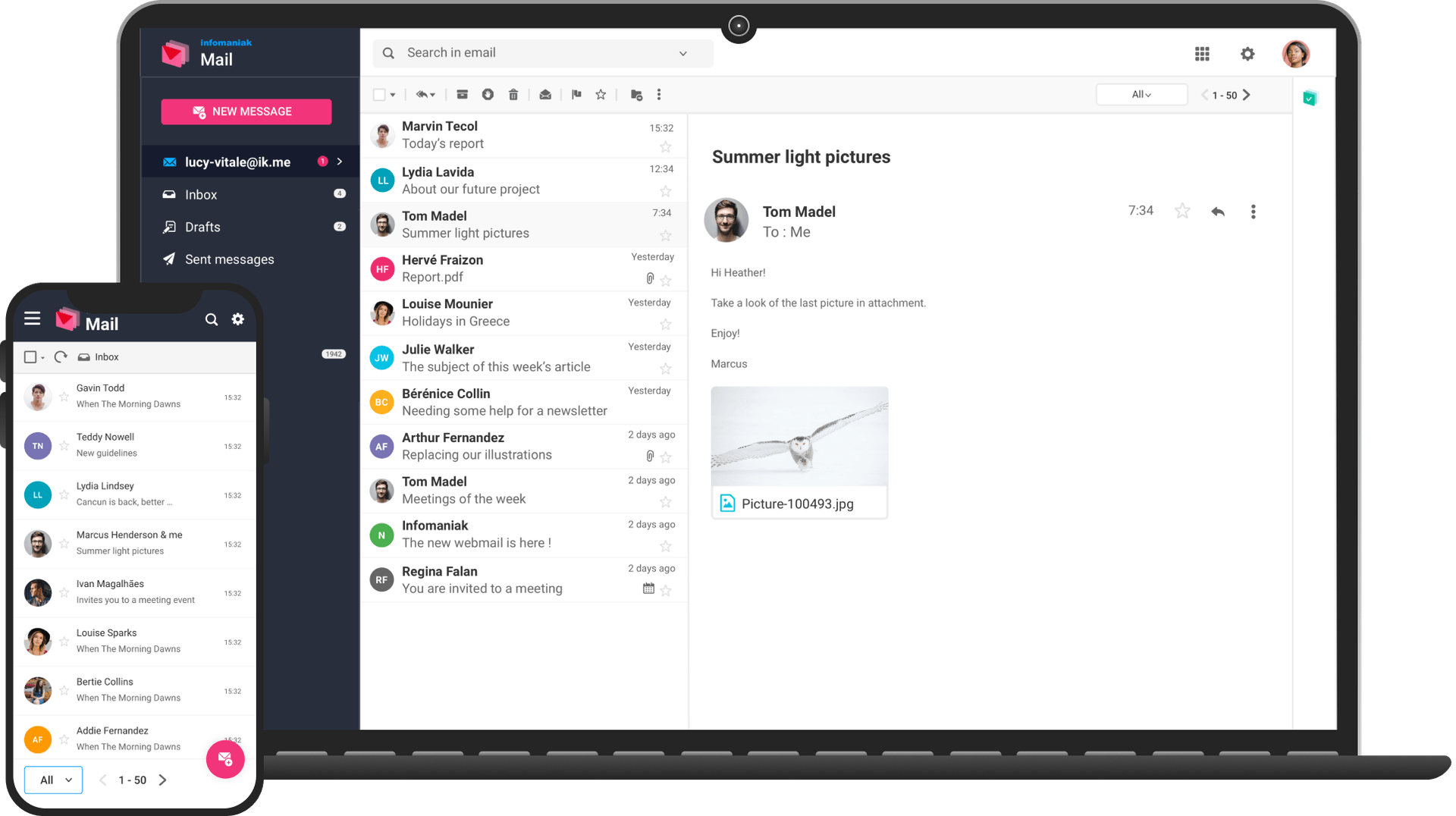 Organise and communicate
securely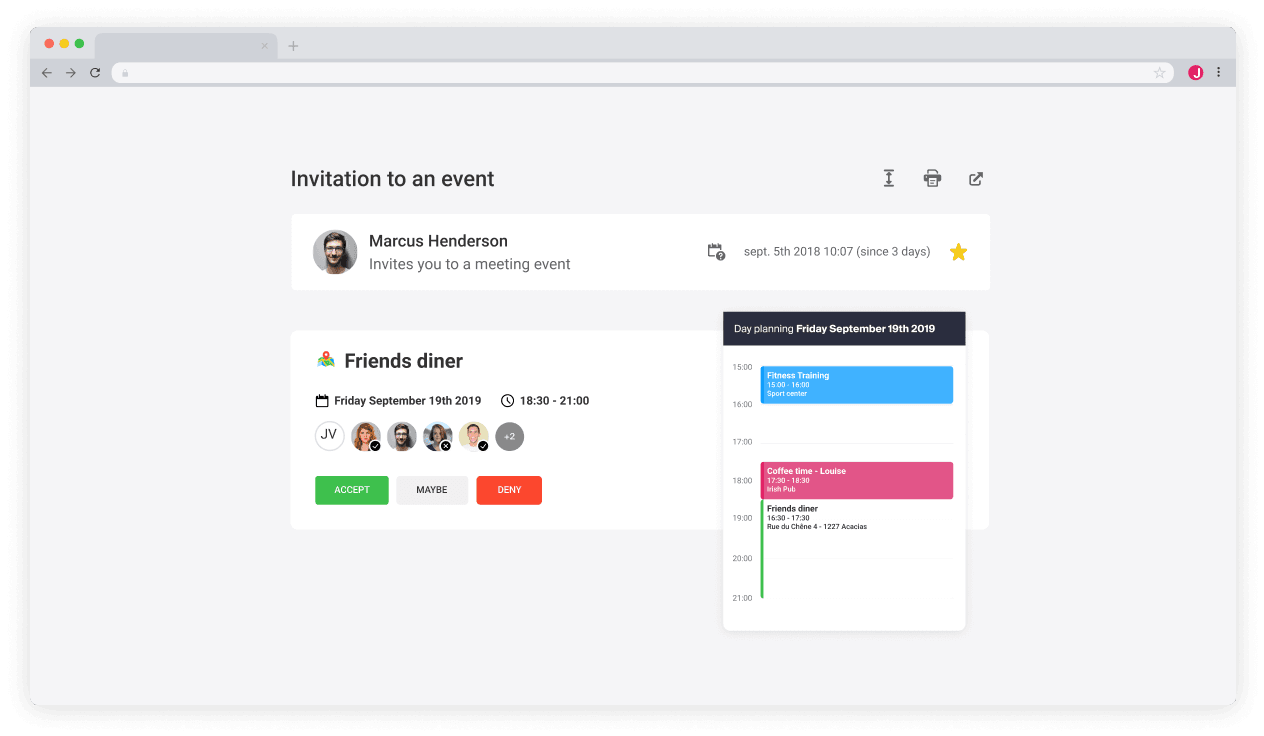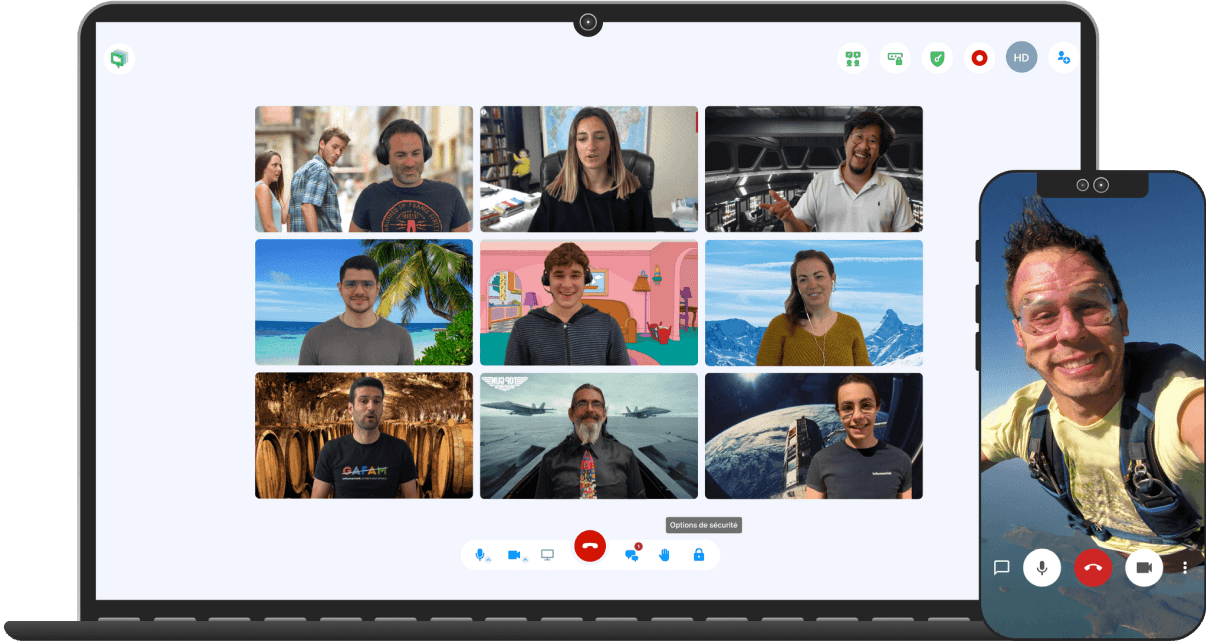 Calendar

, so as not to forget anything
Import your existing appointments and find them on all your devices. Our wizard takes care of all the configuration.
kMeet

, the free, unlimited videoconferencing solution
Schedule and create video conferences from your computer or mobile.
Find out more →
Much more than an email address and a free drive. An ecosystem that's constantly evolving.
SwissTransfer
Send up to 50 GB for free and keep your transfers for 30. Do you use WeTransfer? You'll love SwissTransfer.
Find out more →
Contacts
Import your existing contacts and find them on all your devices. Our wizard takes care of all the configuration.

Marc Oehler | Infomaniak CEO
Our business model is to protect data, not sell it. We develop our own ecosystem so we never have to compromise our values.
Infomaniak,
a local, independent company committed to ecology.
Innovation driver
We design cutting-edge solutions and infrastructures designed to reduce our ecological footprint as far as possible, simplify our customer's lives and develop local know-how. Our data centers regularly win awards for their energy efficiency and we are partners with prestigious schools such as EPFL and 42 with the aim of supporting innovation.
100% Swiss
From data centers through the orchestration of cloud infrastructures to products, Infomaniak knows its value chain from end to end and is wholly owned by its founders and employees. This independence enables us to guarantee the security, confidentiality and sovereignty of the data entrusted to us.
Committed to sustainable development
We offset all our CO2 emissions 200%, our infrastructures are cooled using natural air only, we only use certified renewable energy and through our actions, we want to demonstrate that it is possible to work together to protect the climate.
An independent company for an unfettered internet
We believe in a free Internet which respects the data and privacy of its users. Our solutions are essentially based on open source technologies and we contribute directly to the community. At infomaniak, your data belongs to you and is managed solely in Switzerland.
Do you have any questions or doubts?
We've compiled the questions we're often asked – see below.
What are the limits of this free offer?

You get 20 GB of storage for emails and 15 GB to store your files with kDrive. This offer also includes the following services: an import tool to retrieve emails from your old address, synchronisation of contacts and appointments on your devices, the kMeet video conferencing service, and SwissTransfer to easily transfer data up to 50 GB.

To know more about the technical limitations of this offer :

increase the storage space on kDrive

by subscribing to one of the

paying plans

.

---

Is it possible to transfer emails from my old address to Infomaniak?

---

Is it possible to subscribe to the free offer more than once?

Each user can have a single email address and a free kDrive account.

---

Is it possible to change the name of a free email address afterwards?

If you change your mind and wish to amend your free address, you'll need to delete it and create a new one with the same telephone number.

---

Is it possible to automatically retrieve emails from another address or files from another storage service?

---

What is Infomaniak doing to keep my data secure?

Infomaniak operates its own data centers and develops and hosts its services exclusively in Switzerland. We don't finance our free services by analysing and selling personal data. For more on this topic :



---

Why migrate to Infomaniak?

Where's your data stored?
How is your information processed?
Which jurisdiction(s) does your data come under?
What's the energy that drives your online services?
Where does your provider pay their taxes?
Who owns the company that manages your data?
Is your data held captive to a proprietary ecosystem?
Does your cloud provider create jobs and contribute to the development of regional, sovereign know-how?

Here the answers to these questions are clear. Infomaniak is an independent, local cloud player that's committed to ecology and privacy. To find out more :

---

In which countries is the free offer available?

The free offer is available in the following countries: Switzerland, France, Belgium, Luxembourg, Germany, Italy, Austria, Spain, Portugal and Monaco.

A telephone number corresponding to the country is required.

---

Where can I download the kDrive app?

---