Knowledge base
1000 FAQs, 500 tutorials and explanatory videos. Here, there are only solutions!
Publishing a video via FTP and importing it into your VOD space
To upload your media in order for it to be encoded and streamed from your VOD space, you have
several options
available. If you use a video editing application that allows publication via FTP, you can export the media via the Internet so that it is quickly (or even automatically: see below) imported into your VOD space.
Actions to be carried out
In Adobe Premiere, in the menu click on the File -> Export -> Media...
In the FTP tab (Fig. 1), specify the FTP login details of your hosting plan
Click on the Export button in order to start the export process
Once the export operation is complete, log into your admin interface
Go to your VOD space
Click on Import Media
Click on Import From Another Site
Enter the exact address of your published media and any authentication details where necessary
Confirm to start importing
Illustrated steps
Fig 1.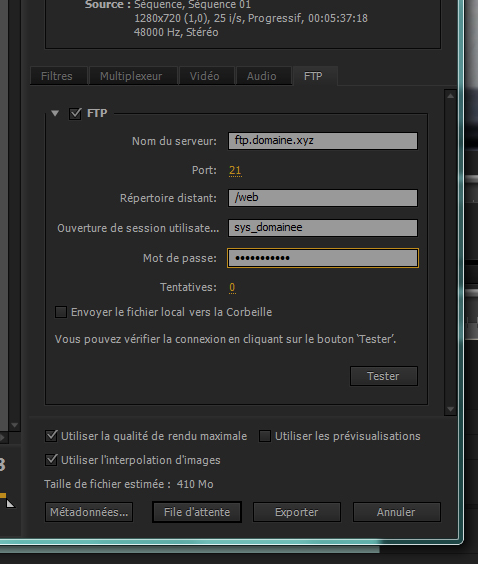 More information
You may also publish to the FTP space made available to you with every VOD space. To do so, go to Import Media -> Import via FTP and enter the details into your video software. In this case, video encoding will begin automatically once the FTP import is complete. Please read the "Additional Information" given on the same page.
Link to this FAQ: