Knowledge base
1000 FAQs, 500 tutorials and explanatory videos. Here, there are only solutions!
Adding chapters to a video that has been uploaded to and encoded in my VOD/AOD space
It is possible to add chapters to a video that has been uploaded to your VOD/AOD and customise the menu display (small thumbnail, title + description, large thumbnail, etc.).
Actions to be carried out
Log into your
control panel
Go to your VOD/AOD space in Media
Click on the video in question then go to the Chaptering tab
On the timeline (Fig. 1, pt. 1) or player (Fig. 1, pt. 2), drag the playback position
Once you have reached the desired position, click on 'New Chapter'
You may also double-click on the lower timeline to create a chapter
A chapter can only be positioned on a key frame (Fig. 1, pt. 3)
To view the key frames, click on the symbol (Fig. 1, pt. 4) and zoom in if necessary.
Step from one key frame to another (Fig. 1, pt. 5 and pt. 6) to fine-tune the position
Enter a title, description, set a thumbnail, etc.
Save the chapter and it is automatically added to the chapter list
Once all chapters are ready, click Publish on Line (as well as after any change)
Illustrated steps
Fig. 1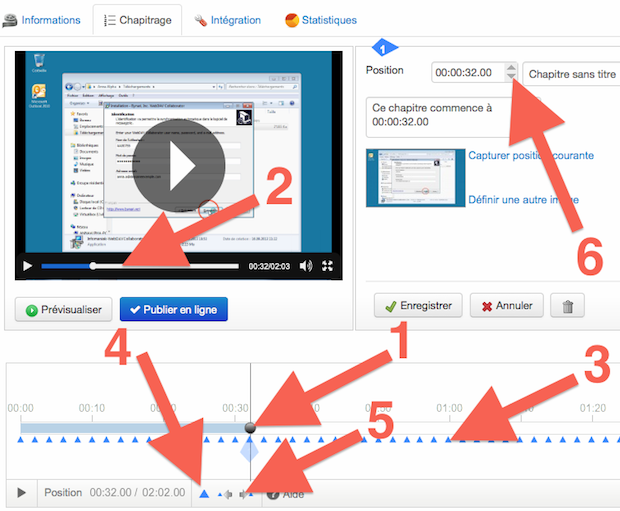 Adding a chapter to a video
More information
The video file must be MP4 encoded in order to edit (create + modify) chapters. Chapter editing will not be possible for FLV videos but these will still display chapters in the video player if the video has also been MP4 encoded alongside. If the MP4 video is deleted, chapters will still remain in place on the FLV but without the option to edit them.
As the iPhone (but not the iPad) handles video playback itself, chapters are not currently visible on iPhone.
It is not possible to use this tool for audio-only media.
For information ont he SOAP API, please read
https://statslive.infomaniak.com/vod/api/#exemple7
Link to this FAQ: