Knowledge base
1000 FAQs, 500 tutorials and explanatory videos. Here, there are only solutions!
Modifying a radio stream (raising the number of simultaneous listeners for example) after the purchase
When you have already ordered an audio stream and go back to your Manager (manager.infomaniak.com) in the product ordering menu, you'll be able to change the streams of your existing radios.
Actions to be carried out
Your list of radios can be found under the radio ordering section.
To modify the stream of one of your radios, click on the PLUS on the left of the line to open the drop-down menu.




Then click on the icon to the right to modify the existing stream.




When you select new parameters (number of simultaneous listeners, format, throughput), the price of your offer will be updated automatically. You can choose to pay the difference straight away in order to benefit from the changes immediately. You may also choose to pay in accordance with the current contract's due date, in which case the changes will become effective as from that date only.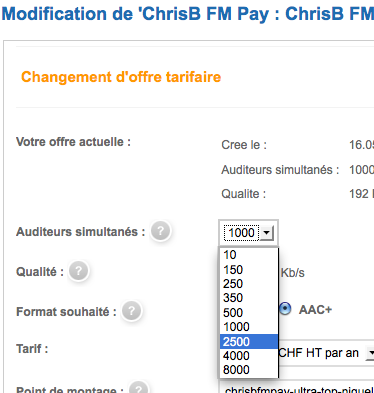 Link to this FAQ: