Contacts
Centralize, manage, and share your contacts or groups of contacts

Synchronization
Manage or change information for a contact and your staff's address book will be updated instantly.
Compatible with mobile phones (iPhone and Android), tablets or software, such as AddressBook for MacOS or EM Client for Windows.
Address Sharing
Share address books or create contact groups for easier management.
Keep control of your contacts by assigning specific rights.
An ideal solution for groups or SMEs.
Interface & features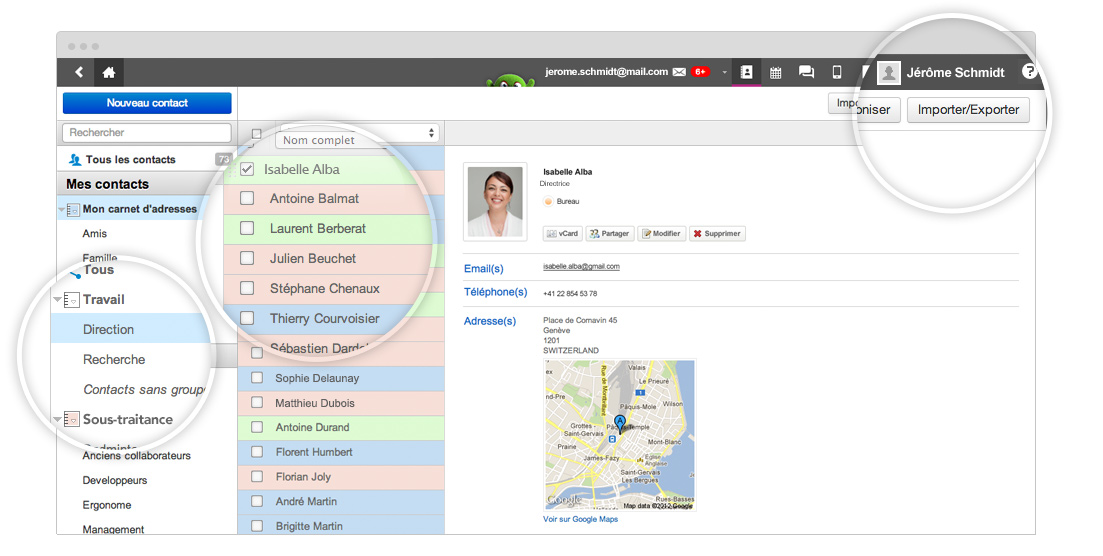 Customization
Assign colors to your address book to quickly distinguish contact groups.

Organization
Use the address books and nestable folders to organize your contacts.

Importing
Import or export your contacts or groups of contacts in vCard/csv format.
Our hosting
Workspace compatible
Mail
Emails only
An email service
5 email addresses and more
---
Workspace
Sync email accounts,
calendars, and contacts
---
Learn more
Classic
The complete Web & Mail offering
Hosting
100 GB and +
10 GB of VOD
---
An email service
5 email addresses and more
---
Workspace
Sync email accounts,
calendars, and contacts
---
Learn more