Agendas
Control your appointments and sync them so you won't miss anything

Synchronization
No more forgetting tasks or events. Add an appointment on any medium and all your devices are synched instantly.
Compatible with mobile phones, tablets, and software for Mac and PC.
Calendar Sharing
Share calendars with your colleagues or delegate the management of your calendar to one person.
Assign rights and maintain control over your calendar.
Ideal solution for managing a conference room or sharing a car.
Interface & features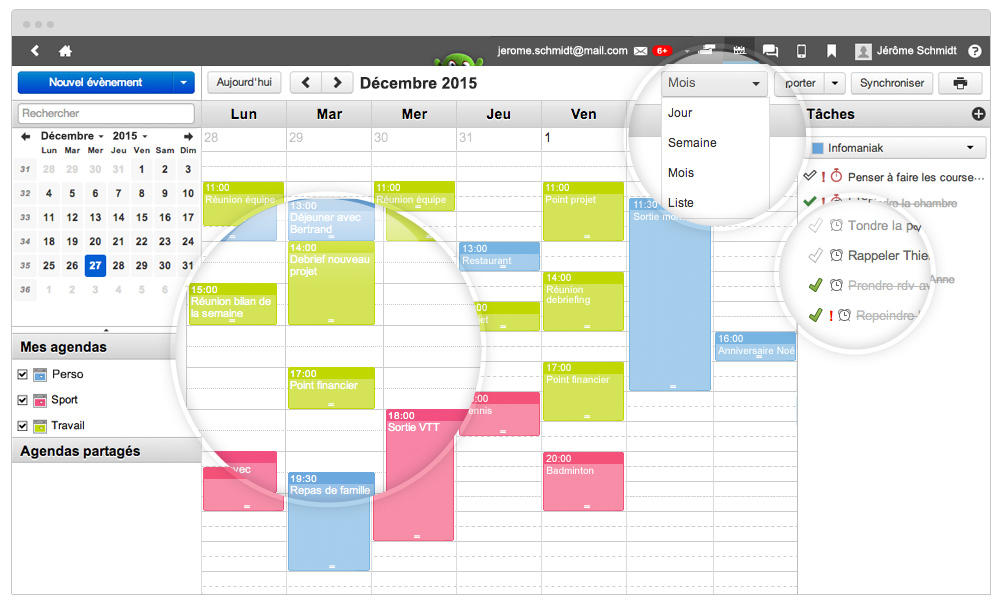 Customization
Assign colors to your calendars for easier reading.

Organization
Create as many calendars you want, display them or hide them for better readability.

Importing
Import or export your calendars in ics format.
Our hosting
Workspace compatible
Mail
Emails only
An email service
5 email addresses and more
---
Workspace
Sync email accounts,
calendars, and contacts
---
Learn more
Classic
The complete Web & Mail offering
Hosting
100 GB and +
10 GB of VOD
---
An email service
5 email addresses and more
---
Workspace
Sync email accounts,
calendars, and contacts
---
Learn more