Products 

designed and optimised for daily use
Mail
The privacy-friendly webmail
Infomaniak Mail is hosted in Switzerland in our environmentally-friendly data centres. You can speak freely.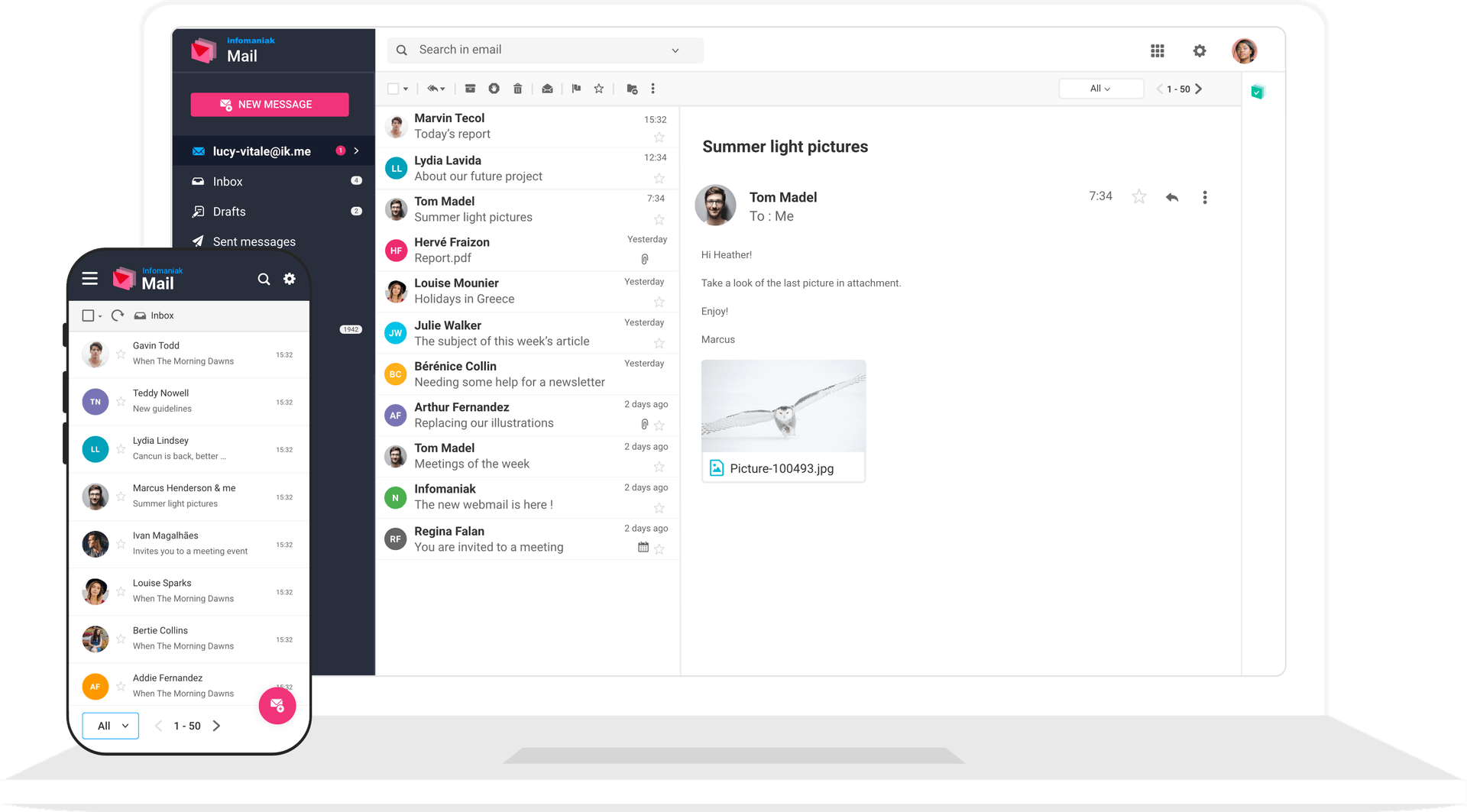 Obtain a personalised email address
Increase the confidence of your customers by granting each of your employees with a professional email including your domain name, for example: manon@your-company.com
Write, sort, send
Manage your emails on your mobile phone or tablet. Our assistant handles all iOS and Android configuration.
We protect your data from threats
We place great emphasis on protecting your data. Infomaniak Mail blocks over 99.9% of spam, malware and phishing attacks before they reach your employees.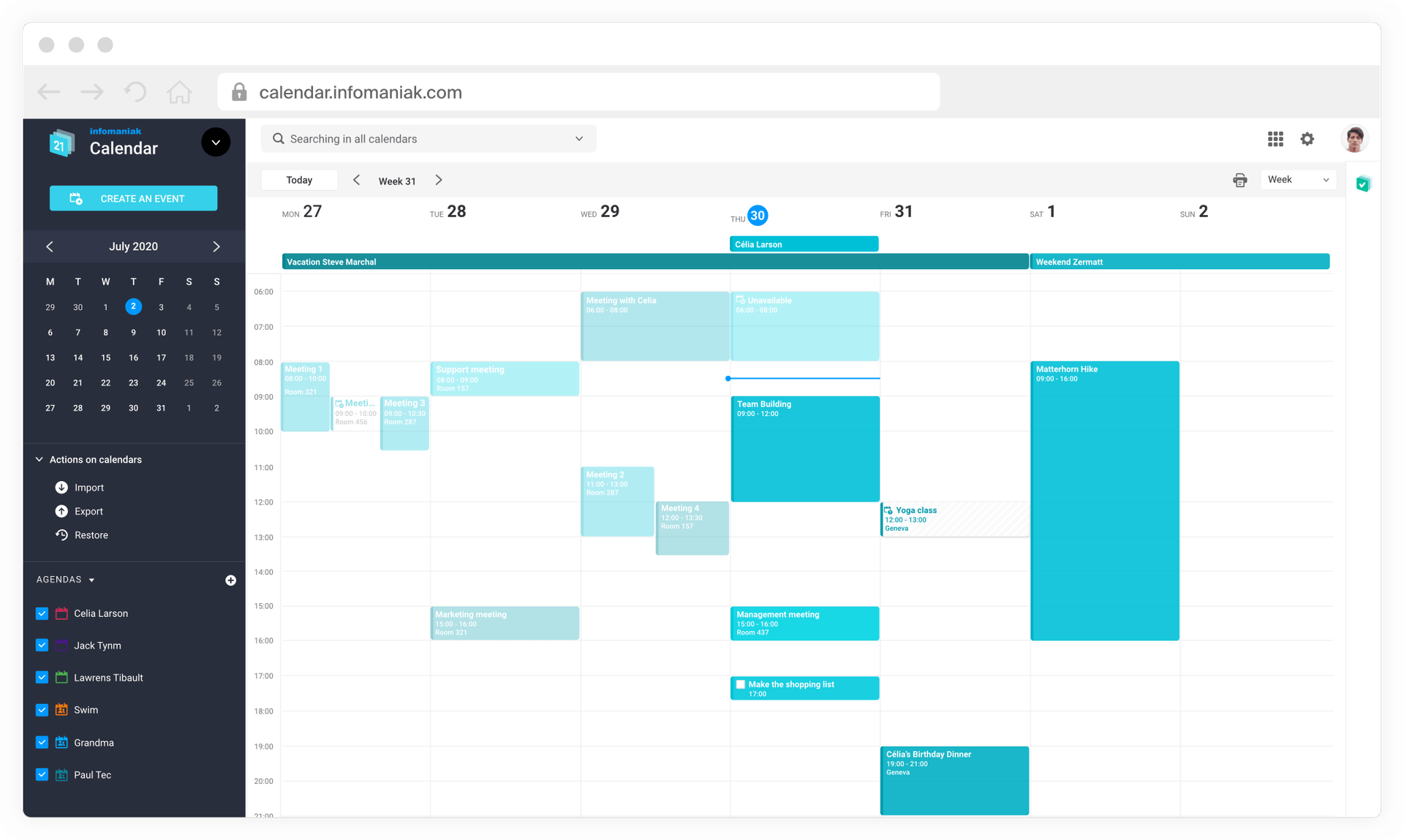 Calendar
Don't forget any more events
Devote more time to action than planning. Our smart, easy-to-use calendar is designed to help you work more quickly and can be seamlessly integrated into your devices and online tools.
Plan and organize your team meetings
Check the availability of your colleagues at any time by displaying all their diaries on a single screen so that you can plan your meetings easily. Everything is synchronised on your devices at all times.
Share, view and accept
Quickly accept or decline your invitations in a simple interface designed for efficiency. Seamless integration with email ensures you never miss an event.
Import. Export.
Add your current meetings to your infomaniak calendar in only a few seconds. You can also export your events to other external calendars.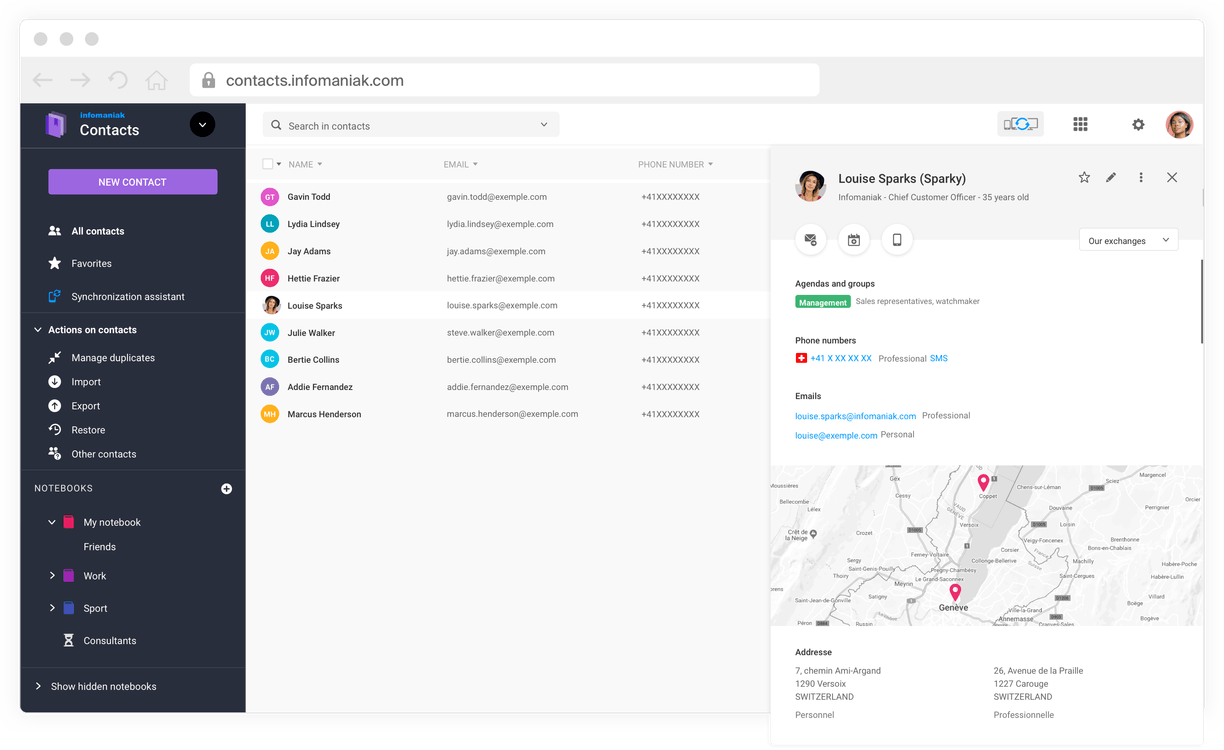 Contacts
Centralize, share and sync your contacts
Add new employees in a matter of seconds. Your teams can work together immediately.
Centralize your contacts
All your contacts in one place, for all your teams. Modifications apply to everyone.
Optimized duplicate management
Infomaniak Contacts manages the creation of duplicates between shared users, so it only allows you to keep only one version of a contact.
Import / export in the blink of an eye
Import all your contacts from your address books into Infomaniak Contacts. Would you like to sync them elsewhere? Export your list quickly.
Interconnected products
All our products are connected to one another intuitively to provide you with a complete, high-performance workspace; discover these products without further delay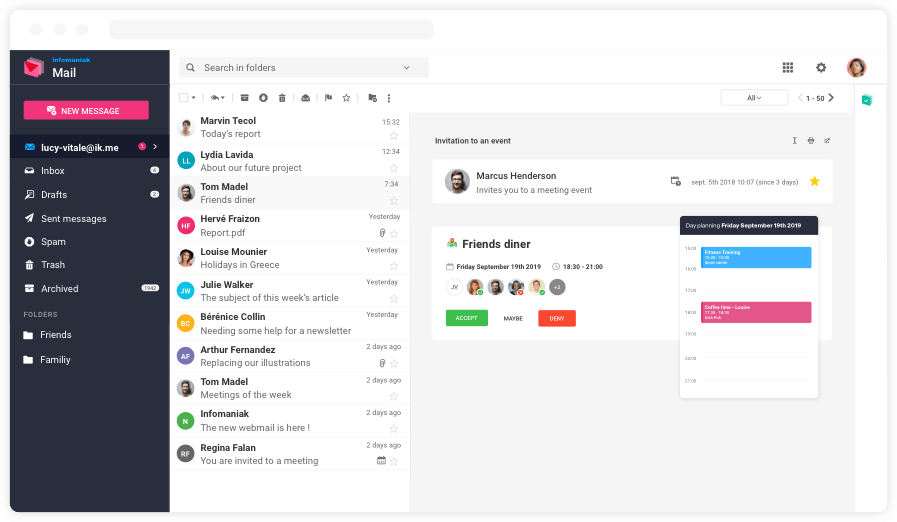 kMeet
Hold video-conferences with your colleagues, friends and family free of charge and in complete security.
Find out more →
Optional – from CHF 5.35 / month
kDrive
Sync, collaborate and share your files. Discover live collaboration to work with several people on the same Word, Excel or PPT file.
Find out more →
SwissTransfer
Transfer large files up to 50 GB for free. Get a link to share on your favorite applications or send by email.
Find out more →
We live in a mobile world
All of the Infomaniak Mail products are designed to be used on as many devices as possible to meet all your needs.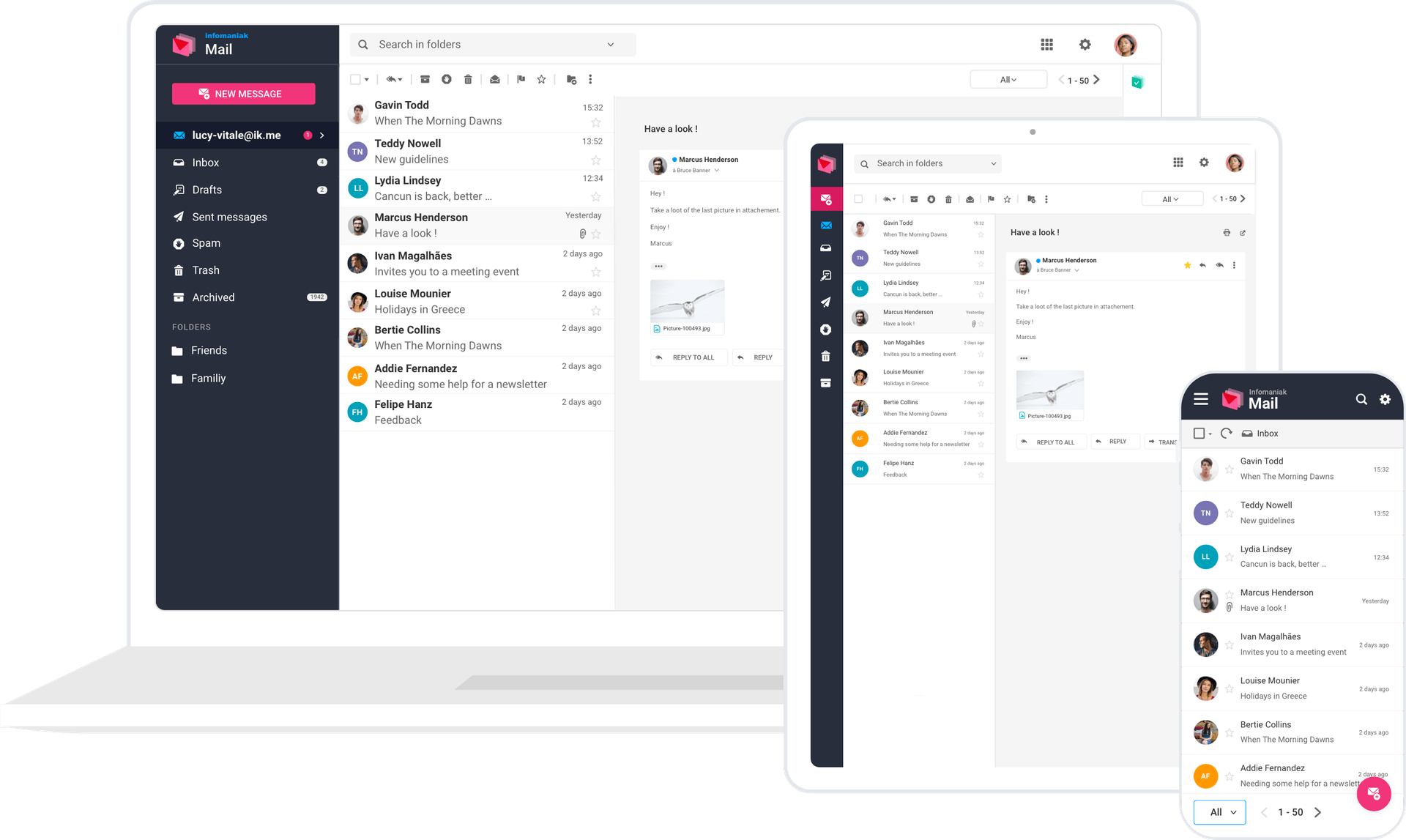 Choose a secure and user-friendly messaging system
Order
Thought out for you, to suit your preferences
Adapt your products' interfaces to suit your preferences by managing the display density and by applying a light, medium or dark style!
And from one vision to another
And from one vision to another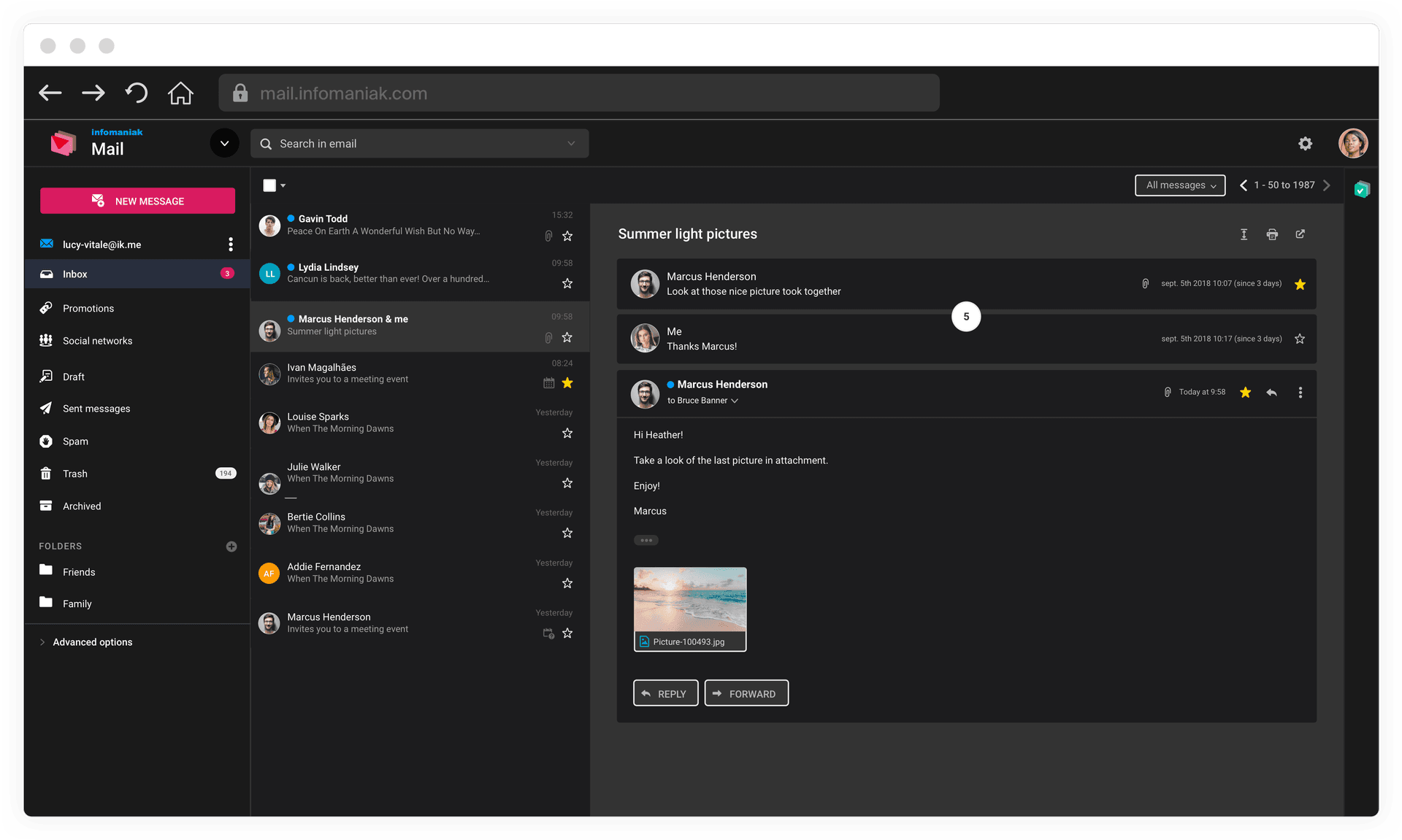 Uncompromising security at the right price
Benefit from an independent webmail service designed from A to Z in Switzerland and which integrates seamlessly into your work habits.
Starter
To start your business
One free email address
with the purchase of a domain name*
Management of your email addresses
Pro
For small and medium-sized businesses
with the purchase of a domain name*
Management of your email addresses
*The price indicated does not include the domain name
Free email address
Create your @ik.me, @etik.com ou @ikmail.com address at Infomaniak
Free and without advertising
1 free email address for life

20 GB of storage space for emails

15 GB of kDrive storage
Find out more →
Do you have any questions or doubts?
We've compiled the questions we're often asked – see below.
What are the limits of the infomaniak Email Service?

Storage space is unlimited for your emails and you can send up to 1,440 emails per day (adjustable on request). The addresses are accessible via IMAP, POP and SMTP. This allows you to use them with any email application.

---

What is the difference between a free email address and the fee-based offer?

The free email address has the same levels of security and data protection as a fee-based infomaniak email address. A free email address has 20 GB storage and allows you to send 100 emails per day including up to 10 single recipients per e-mail. The fee-based infomaniak email addresses included with the Email Service offer unlimited storage and the possibility of sending 1,440 emails per day including up to 100 single recipients per email. The fee-based email address allows you to use a personalised domain name for your email addresses (e.g.: manon@your-company.com).

Our paid email address also enables you to use a personalized domain name for your email addresses (e.g.: xxxx@your-domain-name.com). The two offers benefit from SPF, DKIM and DMARC protections.

---

Is contact and calendar synchronisation supported?

Yes, infomaniak uses the CardDAV and CalDAV free protocols. We have developed a wizard to help you configure the synchronisation of your contacts and appointments easily on your devices: config.infomaniak.com

---

Why should I migrate to infomaniak?

Relied on by more than a million users throughout Europe, infomaniak's webmail is one of the few fully independent, sovereign email solutions on the market. This privacy-friendly tool is popular with SMEs and the result of more than 20 years of experience.

Much more than a simple online message service, the infomaniak webmail synchronises your emails, contacts and appointments between all your devices. It integrates with the tools of the infomaniak suite such as kDrive and kMeet, making it a genuine collaborative « WorkSpace ».

infomaniak is an independent company which belongs exclusively to its founders and employees. Here, your emails and personal data are not analysed for commercial purposes.
the data are managed in Switzerland in data centres known for their energy efficiency
The service is constantly evolving and is entirely developed in Switzerland
a wizard helps you synchronise emails, contacts and appointments across all devices
infomaniak has managed more than 1 million addresses for more than 25 years. It is reliable and spams are blocked effectively

By optimising our webmail service from end to end, we're able to deliver on our security and privacy commitments. Furthermore, Infomaniak is strongly committed to ecology and belongs exclusively to its employees and its founders.

Financial autonomy protects us from outside interests, and the same goes for our values. This gives us great freedom of choice so that we never have to make compromises. The foundations of Infomaniak's independence are anchored in our articles of association – plus we're one of the few players on the web to offer all these guarantees simultaneously.

---

Is it easy to migrate from Microsoft Exchange, Gmail or another provider to infomaniak?

Yes, infomaniak provides you with a copy wizard to copy the content of your old email address to your infomaniak address automatically. All you need to do is check that your previous email provider supports the IMAP protocol. If your current provider allows contacts (csv, vcard) and calendars (ics) to be exported, you can also import them easily to infomaniak.

Find out more

---