What we offer
We offer two pricing models for your webradios:
- "By stream" for a good start,
- "By the package" for total freedom.
In both cases, the addition or the change to existing streams is carried out very easily.

Take advantage of the HLS in advance!
HLS is an adaptive streaming technology. Thanks to HLS, you can benefit from a much better stability with an automatically adapting stream quality.
To take advantage of the HLS now, contact us at tests-radio@infomaniak.com

Don't hesitate to contact us anytime if you questions. See for yourself with our multi-redundant connectivity, our performance, and our services, not to mention the various functions and options available to you.
Pricing by stream volume
Streaming quality
Simultaneous listeners
Good
Very good
Excellent
32 kbps
48 kbps
64 kbps
96 kbps
128 kbps
192 kbps
150

44.00

66.00

88.00

121.00

165.00

253.00

250

88.00

121.00

165.00

253.00

330.00

495.00

350

165.00

220.00

275.00

440.00

550.00

880.00

500

220.00

330.00

385.00

605.00

825.00

1'210

1000

440.00

605.00

825.00

1'210

1'650

2'475

2500

1'100

1'540

2'090

3'080

4'125

6'160

4000

2'475

3'300

4'400

6'600

8'800

13'200

8000

6'050

8'250

11'000

16'500

22'000

33'000
simple, clear, and easy to understand
designed to let you enjoy the best rates depending on your use
change offers in just a click
Package prices
Start
Medium
Premium
Traffic included
10 TB
20 TB
50 TB
Excess traffic

CHF 30.00

/ TB

CHF 25.00

/ TB

CHF 15.00

/ TB
Number of radio stations
unlimited
unlimited
unlimited
Streams
unlimited
unlimited
unlimited
Number of simultaneous listeners
unlimited
unlimited
unlimited
Monthly rate

CHF 300.00

CHF 450.00

CHF 750.00
as from
CHF 300.00
monthly
unlimited audience to ensure your success
radio/stream included package
create your radios instantly
Making the right choice
The first thing is to identify your needs, your plans, and their external scope. Then it is necessary to position yourself in relation to the settings opposite, in order to define the most appropriate offer.
Pricing by stream volume or flat-rate package?
The rates by streaming volume are very adapted to small structures because the costs are controlled. This becomes less interesting when streams increase because the prices go up accordingly.
Flat-rate packages are suitable for larger structures and more specific cases: audience spikes, expanded broadcasts...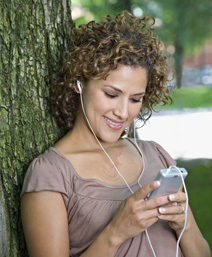 Infomaniak enables you to broadcast any audio content live to different devices, as long as they are connected to the Internet. Therefore, it's Internet radio. There are all kinds: those usually broadcast on the FM band, these broadcast a single style of music and you can also listen to Internet radio in the context of a specific event.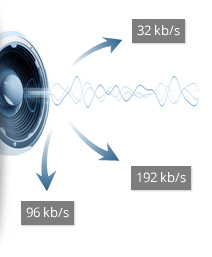 This is a packet of compressed information continuously passes in transit. You generate this stream from an audio source, send it to us and we send it along to your audience. You can change the compression format (MP3 or AAC+) and rate (kbps) to reduce the bandwidth needed to transmit the stream and promote access from lower quality Internet connections.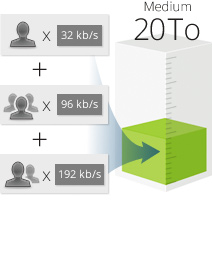 As soon as a listener accesses your audio stream, the data sent to them is recorded (MB) and represents your radio traffic. It depends on the number of listeners and the quality of the stream: an inferior quality needs a smaller amount of information to be sent. As an example, a 50 TB traffic (our highest platform) means more than 900,000 people listening to a stream at 128 kbps for 1 hour (and double the listeners for 64 kbps).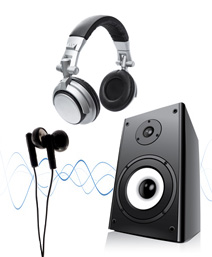 The quality of your audio stream is an essential setting. If it's high, it will attract users with a good Internet connection and who want to listen to your stream without the compression effects audible at certain frequencies. If it's low, it allows the stream to be reached by users with slower connections. The ideal is to offer both in parallel, and leave the choice up to the listener.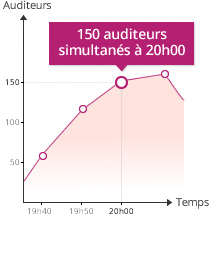 That's the strength of our streaming product. Imagine a spike in connections to your audio stream (after posting your listening link on Twitter, for example); it should suddenly be distributed to a large number of listeners who want to listen to your radio station...Our services enable you to choose in advance between 150 and an unlimited number of simultaneous listeners.
Sample profiles
Local or personal radio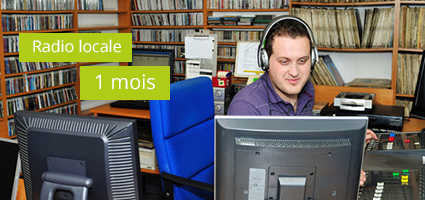 Budget estimate
from

CHF 30.64

to

CHF 2'298.05

for about 1000 to 10'000 daily listeners
Duration : 1 month
National Radio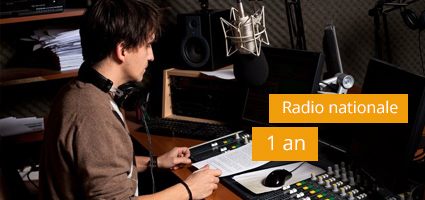 Budget estimate
from

CHF 278.55

to

CHF 696.38

for about 10'000 to 250'000 daily listeners
Duration : 1 year