Your kDrive free for 1 year then -40% off for life with neon Q & QoQa
From
CHF
3.60
/&nbspmonth
*Offer reserved for new users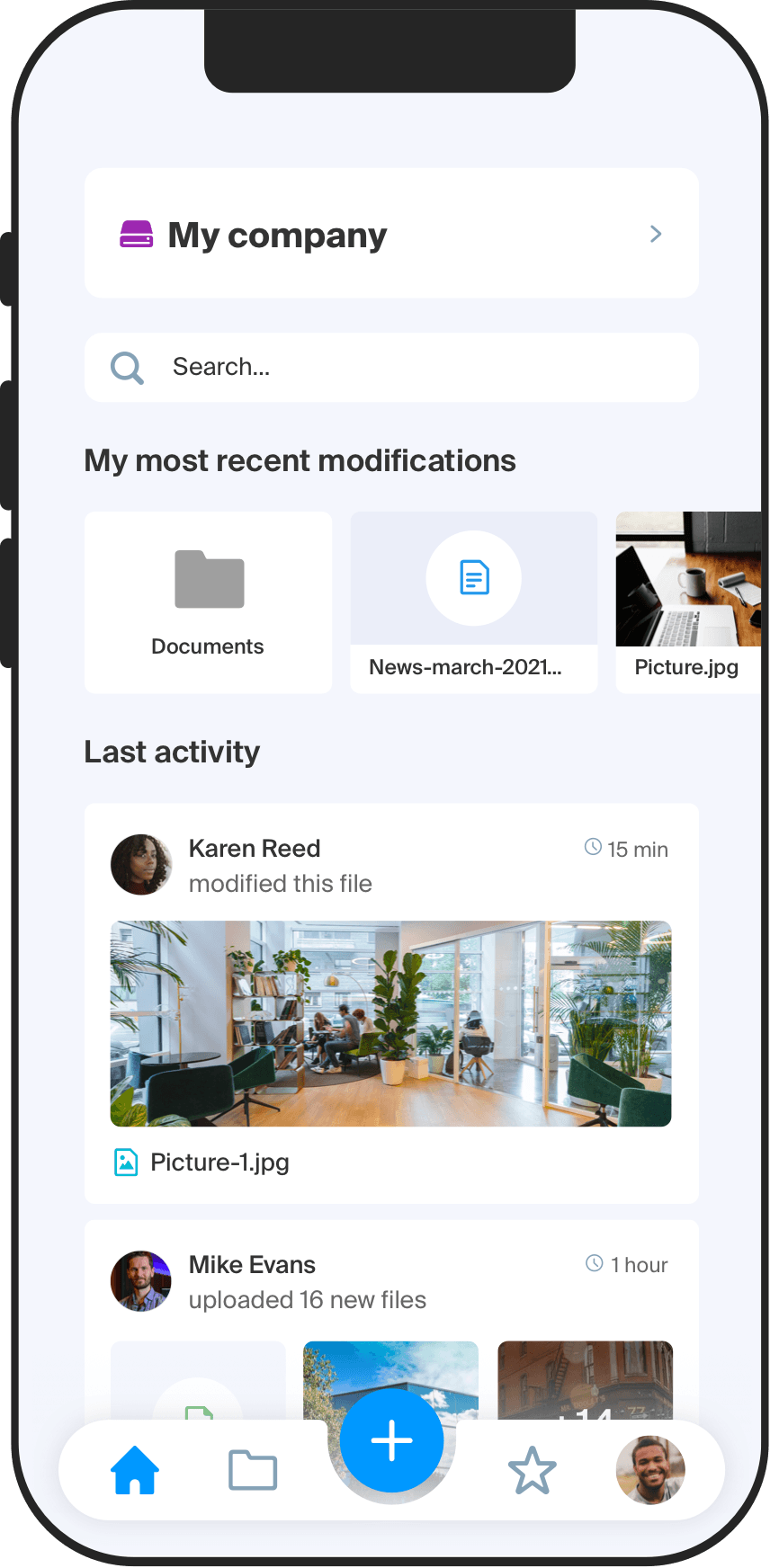 kDrive what is it?
A 100% sovereign Swiss cloud to store your photos, videos and documents. kDrive can store up to 106 TB of data. Everything has been developed by Infomaniak.
Designed and hosted in Switzerland.
Safely protected from the GAFAM group, your data are stored in our own data centres. Their protection is guaranteed. Confidentiality and security are our core concerns.
Online collaboration with Word, Excel and PowerPoint
Work together in groups in real time on Docs, Grids and Points, compatible with Microsoft Word, Excel et PowerPoint.
Optimized across all devices
The kDrive application adapts to all media (PC, tablet, mobile) and all operating systems (Linux, Windows, MacOS).
Environmentally-friendly.
Fully aware of the challenges of tomorrow and the impact of digital technology, infomaniak endeavours to optimize its data centres and to offset its environmental footprint 200%.
Simple migration via Dropbox, Google Drive and OneDrive
Migrate all your documents to kDrive easily using our wizard.
Do you have any questions or doubts?
We've compiled the questions we're often asked – see below.
What are the advantages of kDrive compared to Google Drive or Dropbox?

More storage space, respects your privacy, secure and environmentally-friendly. You can migrate all your data in just a few clicks from most clouds, including Dropbox, Google Drive and Nextcloud. If you use a different cloud, it is easy to synchronize all your data with kDrive using the application for the desktop.

kDrive is developed in Switzerland by infomaniak, a Swiss company wholly owned by its founders and employees which develops its own solutions and data centres and which has been the leading web hosting technology developer in Switzerland since 1994. The 175 employees at infomaniak work in Geneva and Winterthur.

---

Can I use kDrive in a company or a start-up?

From the very outset, kDrive was designed for companies of every size. The Team plan with 3 TB of storage and 6 users enables you to create team folders. Your data are constantly saved on at least three storage devices in two data centres located in Switzerland. The drop boxes enable you to request files from any contacts in your own work environment and you can completely personalize your share links. With the MykSuite option, you can personalize kDrive with your own domain name, logo and colours. Do you need more than 6 users or more than 3 TB? Consult infomaniak.com/kdrive to discover the Pro plan (not included in our offer with neon Q). The Solo plan is limited to one user and is therefore not recommended for start-ups or companies.

---

What are the limitations of the neon Q offer?

This offer is only available with a neon Q Mastercard and only once per card. It is reserved for new users. The plan you choose cannot be upgraded or changed. For example, if you choose the Team plan with 3 TB, you will not be able to increased your storage space to 18 TB. Similarly, you cannot subsequently convert a Solo plan into a Team plan. You will, however, benefit from all changes constantly made to kDrive.

---

Is it possible to encrypt my data with kDrive?

By default, the data are automatically encrypted by our servers. For even greater security, the safes enable you to encrypt the folders of your choice with your own encryption key. This function will be available soon.

---

Is it possible to create and modify Word, Excel and PowerPoint documents online?

kDrive makes it possible to create documents online and to work with several people at the same time on Word, Excel and PowerPoint documents using OnlyOffice. You can also download OnlyOffice on your computer if you do not have Microsoft Office.

---