How does it work?
Live audio streaming, or broadcasting an audio stream live, allows you to broadcast an audio source in real-time to listeners connected to the Internet. This live broadcast can be followed from a web page, mobile phone, or other compatible device.

Take advantage of the HLS in advance!
HLS is an adaptive streaming technology. Thanks to HLS, you can benefit from a much better stability with an automatically adapting stream quality.
To take advantage of the HLS now, contact us at tests-radio@infomaniak.com
Check out our offers.
1
Send us
your audio stream, ...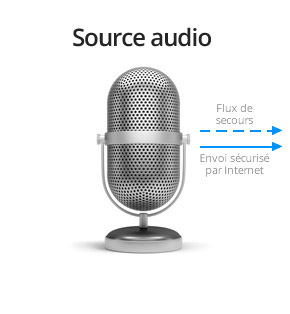 Generate a live audio stream you send to our streaming server using the encoding and broadcast software of your choice (Nicecast, Edcast, SAM Broadcaster, etc.) and through your ADSL/fiber/cable line.
2
make known
your radio, ...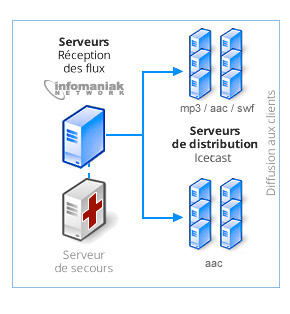 Embed our customizable audio player (or the player of your choice) on your website, or retrieve embed links for Flash, iPhone, iPad or Android.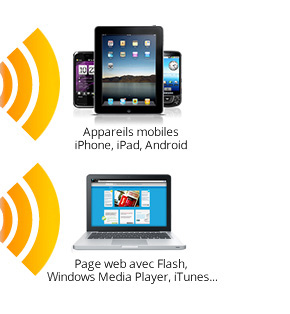 Infomaniak Network distributes your audio directly to each listener connected to your website, regardless of its platform: web page, Windows Media Player, mobile telephone - iPhone or other, etc.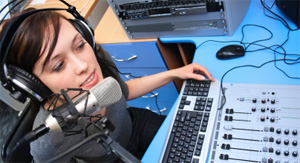 In a professional environment
Send an audio stream digitally from your home or recording studio if it is a professional environment. Our streaming platform seamlessly redistributes the stream directly to your listeners.
mp3 vs AAC+
Net benefit
in AAC+ format
What are the differences between an MP3 and AAC+ stream
The MPEG Layer 3 audio standard, more commonly known as mp3, was made public for the first time in 1993. In 1997, the AAC (Advanced Audio Coding) format appeared, then AAC + (also called HEAAC), finally replaced by a final version called HEAACv2.
AAC was chosen by Apple for its iPod, iPhone, iPad and iTunes, as well as by Sony. The HEAAC codec has also been adopted for 3G mobile telephony and DTT.
Our verdict
We recommend using AAC+ rather than MP3, because the algorithm used is better than that of MP3, which results in smaller files with better quality, while requiring fewer resources for encoding or decoding. AAC+ also allows compression at 32kbps, 48kbps, 64kbps, 96kbps, 128kbps, 192kbps and more.