Protect your sites with an SSL certificate and give your users an immediate sense of security
Whether you are an individual, an SME or a multinational corporation, Infomaniak offers the types of SSL certificates that you need to secure and ensure the growth of your online activities.

Free (Let's Encrypt)
For personal websites
Free
included in your web hosting service

Standard (DV Certificate)
For individuals and professional sites
from
/month (for 5 years)

Business (EV Certificate)
For companies with registered business
from
/month (for 5 years)
Images are for representation purposes only
Included with our SSL certificates
Padlock in the browser address bar
SHA-2 and 2048-bit encryption
Fast, automatic installation
Compatibility with all major browsers
Official Sectigo security seal
Support for external domains (DV, EV)
SSL certificate: the green light for secure online shopping and browsing on your website
An SSL certificate adds the padlock and "https" to your website address, proving to your customers at a glance that your site is secure. Thanks to the SSL certificate, your domain is authenticated and exchanges between your server and your visitors are encrypted. If you have a company, you also have the option of displaying your company name in the certificate by choosing an EV certificate. Having your identity validated by a certification authority helps people to feel secure and you to increase your success.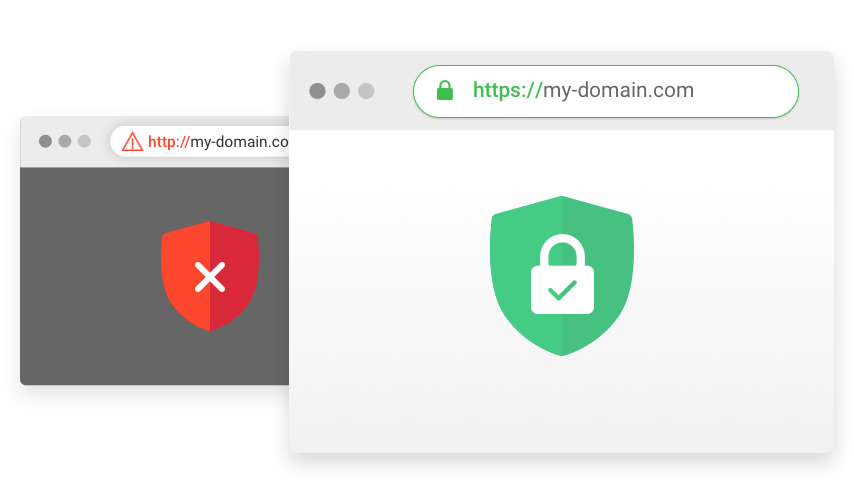 Our SSL certificates are granted by certification authorities that are recognised and certified worldwide
Sectigo is the world's leading certification authority, offering you the assurance that your SSL certificates will be recognised by all the browsers and devices on the market.
Let's Encrypt is a free and automatic certification body. This service is provided by the Internet Security Research Group and is sponsored by Infomaniak, Google, Mozilla and other major players.
Compare our SSL certificates

Free (Let's Encrypt)

Standard (DV Certificate)

Business (EV Certificate)
Padlock in the address bar
SHA-2 and 2048-bit encryption
Optimise your SEO
Compatible with the main browsers and mobile devices
Protects several websites (multi-domain SSL)
Domain name authentication
Official secure site seal
Your company name in the certificate
Company authentication
Activation period
Immediate
Immediate
From 24 hours
Guarantee for your customers
None
$ 10'000
$ 1'750'000
Valid for
3 months renewed automatically
1 year renewable for up to 5 years
1 year renewable for up to 5 years
Price
Free with web hosting
from
/month (for 5 years)
from
/month (for 5 years)

Arnaud Jaegers | Developer
Infomaniak aims to support a safer Web by allowing you to install SSL certificates in one click. By offering EV certificates at such a competitive price, businesses of all sizes can easily take advantage of securing their website.
The advantages of an SSL certificate
Secure your visitors' data
Regardless of the type of certificate, the information entered by your users is automatically encrypted by an advanced hashing algorithm. Your clients thus have the guarantee that their data will be transferred with total security.
Increase your online sales
By displaying your company name in your certificate, the EV SSL certificate instantly gives your customers confidence. It gives them the green light to start shopping and indicates that they can enter their credit card number securely.

Protect your users from counterfeits
By validating the authenticity of your domain or brand, the EV SSL certificate immediately shows your visitors that your site is genuine. Your users are thus protected against phishing.
Improve your SEO
Search engines like Google actively fight for a more secure web and systematically favour the position of internet sites that are protected by an SSL certificate in their search results.
Strengthen your brand image
The EV certificate is the only one that authenticates and displays your brand name in the SSL certificate details. This is the strongest way of demonstrating your company's legitimacy to your customers.
Protect your users against fraud
Sectigo EV and DV certificates are covered by a solid guarantee that protects your users against the slightest failure related to the certificate that could endanger the security of their personal data.
Frequently asked questions about SSL certificates
Need a domain?
Register your domains at the best price with one firstname@your-domain.com type email address and one free web page.
Register a domain name
Need a site?
Easily create an attractive website with WordPress thanks to 80 free professional themes and over 120 web apps.
Create a website