Knowledge base
1000 FAQs, 500 tutorials and explanatory videos. Here, there are only solutions!
[Apple IWEB] Publishing a web site
Apple iWeb (on Mac OS X) allows you to create a site and publish it to our servers via FTP (built-in functionality).
Actions to be carried out
Create your site
Click on "Site" above the site tree
Under "Publish to" select "FTP Server"
In the box marked "Site name" enter a name
For "Server address" enter www. followed by your domain name
For "Username" enter your FTP account name
For "Password" enter the FTP account password
For "Web site URL" enter http://www. followed by your domain name
Click on "Publish site"
Illustrated steps
iWeb 3.0.4 (iLife '11)
Basic configuration (applies to all iWeb versions)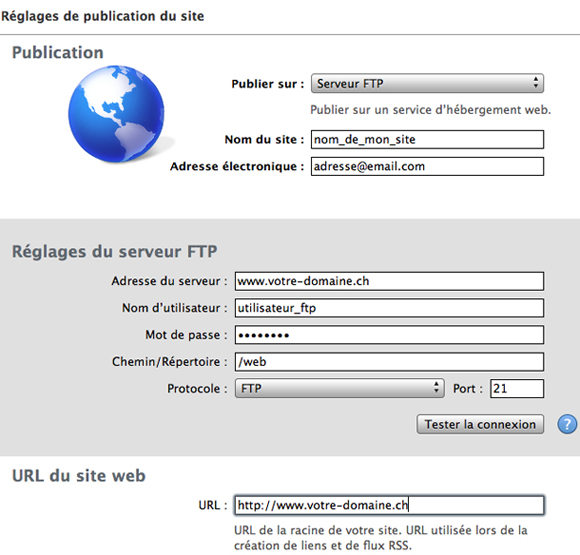 More information
If an error prevents you from publishing your site while you are connected to the Internet over Wi-Fi, try again from a computer with a cable connection.
Link to this FAQ: